Breeze Creative Reinvents Public Spaces to Encourage Active Play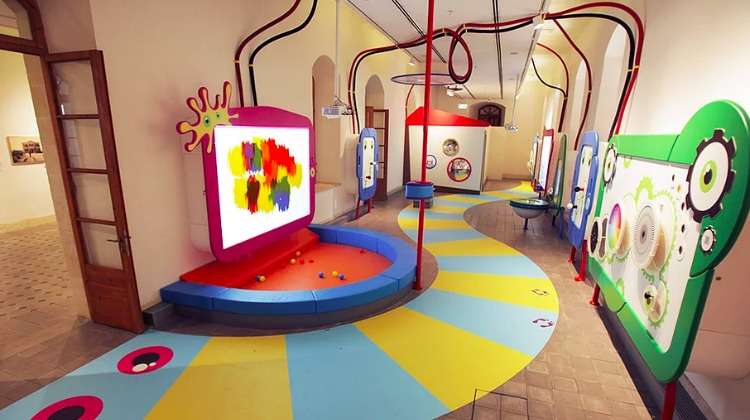 images: BREEZE CREATIVE
The interactive solutions developed by Breeze Creative encourage physical play with a range of digital games that transform public spaces and offer unique experiences to visitors.
Interactive solutions developer Breeze Creative offers a range of innovative products that invite users to play various games using their body as a motion controller. The company's products are designed for family entertainment centres, museums and other public environments that attract a lot of visitors. Some of these solutions – the Digital Ball Wall, Virtual Tag, the Dynamic Floor and Street Run in particular – were created specifically to engage kids in active play.
The Digital Ball Wall is an interactive projected wall that invites children to throw balls and watch splotches that appear on the projected surface. The colours of the splotches match those of the balls thrown at the wall. The digital painting game allows kids to learn about primary and secondary colours and see how the colours mix as they create them on the virtual wall. The application can be modified for a range of different digital games that use the same elements of balls and projection.
Virtual Tag is an interactive wall that offers two games in a single installation: tag and memory game. The tag game challenges children to tag the displayed characters as quickly as they can. It can be played by one or two players. The digital reinterpretation of the classic game motivates children to be active and helps develop their hand-eye coordination. The memory game challenges kids' memory skills in a similarly fun way. Both games offer various customization options for themes and backgrounds.
The Dynamic Floor is an interactive floor designed to turn any regular floor into a gaming zone. The images and graphics projected on the floor react to players' movements and challenge players to collect coins, whack moles and perform a range of other movements to score points. The games encourage physical activity and are fun to play, and the themes and graphics can be customized to meet clients' needs.
Street Run is a video game that requires players to jump from side to side to move their displayed avatar between the lanes in the game. The enhanced running game challenges players to collect as many job icons as possible while avoiding obstacles. The graphics and themes can be customized for specific environments.
Breeze Creative is a digital interactive media and production company that specializes in developing unique, innovative products that combine physical and virtual elements and use a range of interactive technologies to bring life to public spaces such as digital playgrounds, children's museums, and family entertainment centres. The company's team of content developers, programmers, multidisciplinary engineers and producers create solutions that can be customized in scale and in content to deliver memorable individual and mass experiences to visitors at various events. Watch the video below to see the experience delivered by Virtual Tag.