Amusement Expo 2015 Coming in March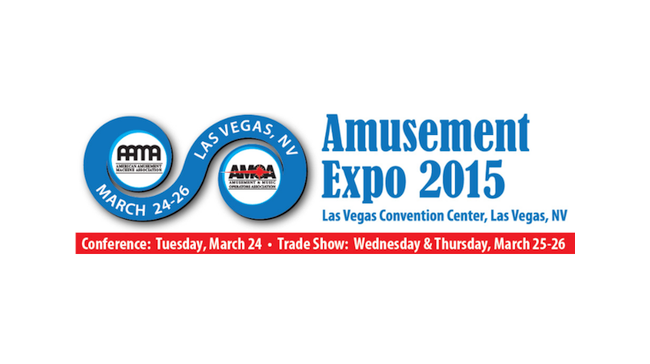 images: AMUSEMENT EXPO
Amusement Expo 2015 will be held in Las Vegas, Nevada from March 24 to March 26.
Amusement Expo 2015, which runs from March 24 to March 26 at the Las Vegas Convention Center in Nevada, will host a full day of educational sessions on Expo Education Day (March 24) and two days of exhibits. The annual trade show is sponsored by the American Amusement Machine Association (AAMA), the Amusement and Music Operators Association (AMOA), and the National Bulk Vendors Association (NBVA).
The 2015 edition of the event will welcome the first ever Laser Tag Convention, organised by the Laser Tag Museum for laser tag facility operators and developers. The amusement associations and the NBVA will present a variety of other programs on Expo Education Day, including AMOA's business session program on personal and professional development, the ripple effect of organisational change, the concept of the cashless consumer, creative ways to find a niche in fundraising, and dealing with location agreements.
A roundable session will be hosted to discuss topics critical for operator success, including management of operational costs, building value with locations, alternative sources of revenue, and dealing with difficult customers. Expo Education Day will close with an Industry Gala Reception, which will provide attendees with an opportunity to network and build contacts.
The trade show will feature the latest products from a number of leading brands in the attractions sector, including Bandai Namco, SEGA Amusements, Unit-e Technologies, LAI Games, Adrenaline Amusements and LaserBlast. Trade show registrants will also get a one-day admission to the Pizza Expo, held next door on March 26.
Amusement Expo was launched in 2010 to bring together separate trade shows presented by AMOA and AAMA and to provide a single platform for insight into the expanding range of activities of entertainment operators. NBVA joined the Expo as a sponsor in 2011.
The three-day event will be preceded by a golf tournament organised by the American Amusement Machine Charitable Foundation to benefit children's charities. The tournament will be held at the Las Vegas Country Club on March 23.