Exertronix Revolutionizes Exercise, Training and Play
BY: FG Team
10 August 2017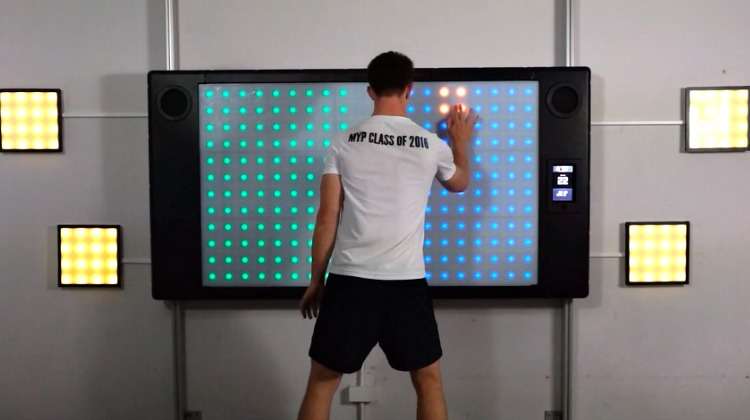 images: SENSACELL
Exertronix, a modular interactive lighting system developed by Sensacell, offers unique architectural lighting solutions that can be used both for training and playing fun interactive games.
Exertronix is a modular surface that combines interactive LED lights with stereo sound and motion sensing technology to deliver a versatile solution for interactive training, exercise and play. The system consists of modular 30 cm square panels that essentially function as a multi-touch touchscreen, one that offers additional options due to capacitive sensors in the interactive tiles. Each of the tiles contains the SensaSynth interactive lighting control engine that works as a standalone unit, making it possible to simply add more tiles to create wall surfaces of different shapes and sizes. The surface responds to touch with variations in colour, pattern and brightness. Clients can also use custom video and different interactive behaviours to create unique, memorable experiences for their customers.
The interactive surface offers two programmable modes with adjustable speed, scale and complexity of gameplay. The Play mode transforms the surface into an interactive colour canvas, while the Game mode engages players in fun active games that promote exercise and coordination.
Designed to provide a versatile range of interactive display applications, the system can also be used for advertising, as well as for various branding and promotional events. It comes with 200 presets that can be programmed and adapted by the user.
Exertronix is self-contained, durable, and easy to set up and use. Surface materials are simply attached to the front of each modular panel and the finished units are placed into a mounting plate. The system is compatible with hundreds of different surface materials and all the fasteners and wires are concealed, giving the surface a clean look. While it offers a wider range of possibilities than other lighting fixtures, Exertronix is just as simple to deploy and does not require an external controller, only a hand-held infrared remote control unit.
Exertronix was developed by Sensacell, a company specializing in creating lighting systems that deliver dramatic, highly interactive environments used for active gaming, product marketing, interactive museum exhibits, display kiosks, multimedia information displays, interior design installations, night clubs, and user-reactive furniture. The company has offices in Valley Cottage, New York and Bangkok, Thailand.