Fun Walls Introduce Interactive Climbing Adventure to Amusement and Activity Parks
BY: FG Team
25 April 2018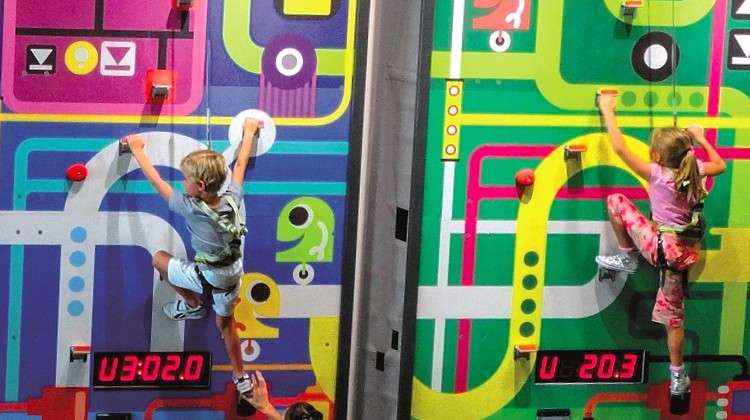 images: WALLTOPIA
Fun Walls are a unique interactive climbing concept that invites children and adults to climb in a variety of fantastic environments and experience the excitement of adventure and competition.
Fun Walls, interactive climbing walls developed by Walltopia, are an innovative concept that combines physical activity with play to engage both children and adults in a varied range of fun activities. The walls provide a colourful, dynamic space where users can climb spider webs, volcanoes, canyons, medieval castles, chimneys, labyrinths and other fantastic environments, and experience the rush of excitement without risking injury.
Developed for family entertainment centres, amusement parks, adventure zones, resorts, schools and similar environments, the Basic Fun Walls are climbing elements with a unique design, that give recreation areas a distinctive look. The Premium Fun Walls come with interactive features such as timers, LED lights, buttons and moving holds, to deliver an additional dose of excitement. They have multiplayer elements and are an excellent tool for developing team spirit, courage and a healthy dose of competitiveness through a challenging physical activity that tests users' agility, balance, coordination and strength.
Fun Walls are the main activity in the Funtopia franchise, a unique concept that brings together a mix of adventure attractions to provide visitors with a range of exciting games and activities to enjoy. These include climbing, jumping, sliding, participating in various challenges, competing at tournaments, and celebrating special events with friends, family and colleagues. Operators benefit from a comprehensive marketing program and strong business support and they can track every minute of operation, as well as sales and results, through a customized software.
Walltopia is a leading global manufacturer of climbing walls, with over 1,500 installations in more than 50 countries. The company develops products that combine physical activity with exciting games and interactive technology to introduce a new level of excitement and adrenaline to amusement parks, fitness centres, recreational areas, shopping malls, hotels, schools and other public spaces. Along with climbing walls, Walltopia develops a variety of amusement attractions, including obstacle courses (Ninja Course), artificial caving systems (Rocktopia) and ropes courses (Ropetopia), which bring a unique experience to any recreational facility.
Watch the video below to see some of the games available with Fun Walls.