IAAPA Attractions Expo Kicks off Today
BY: FG Team
17 November 2014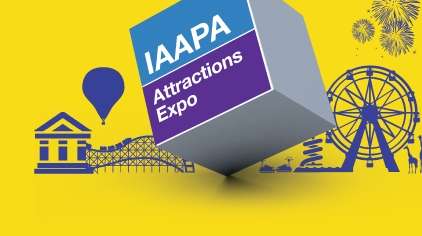 images: IAAPA
The 2014 IAAPA Attractions Expo, the leading conference and trade show for the attractions industry, opens today in Orlando, Florida.
The IAAPA Attractions Expo, which kicks off today at the Orange County Convention Center in Orlando, Florida, will bring together more than 27,000 professionals from the attractions industry, including 17,000 buyers from more than 100 countries around the world. Visitors will get a chance to see the latest products and services from 1,000 exhibitors from 40 different countries and take behind-the-scenes tours to learn more about the key areas of operations and management.
The IAAPA Attractions Expo will host over 80 educational sessions, providing visitors with information, expertise and best practices to help them drive real results for their business. The sessions will cover every aspect of operation, from entertainment and games to marketing and financial management. Those new to the family entertainment center (FEC) business or thinking of entering the industry will get valuable insights at the IAAPA Rookies and Newcomers Institute. The IAAPA Human Resources Symposium will offer a program covering key human resources issues, while professionals looking to take their career to the next level will get targeted training at the IAAPA Institute for Attractions Managers.
Participants will also get plenty of opportunities to meet like-minded professionals – owners, operators and managers of family entertainment centres, amusement and theme parks, water parks and resorts, zoos and aquariums, tourist attractions, museums and science centres, and hotels and resorts – and explore opportunities for future collaboration.
Today, visitors will be treated to an evening at the Magic Kingdom Park at Walt Disney World Resort and get exclusive access to New Fantasyland, and tomorrow they will be invited to explore select locations within Universal Studios Florida and Universal's Islands of Adventure, where they will have unlimited access to all kinds of exciting rides and attractions.
The IAAPA Attractions Expo exhibit floor will feature a variety of innovative products presented across 125 different categories, including coin-operated machines, people-moving equipment, computer systems and software, rides, participatory play, games and devices.
The IAAPA Attractions Expo runs through November 21. The conference starts today and the trade show opens tomorrow.