Lumo Play Transforms Walls and Floors into Immersive, Motion-Reactive Environments
BY: FG Team
28 February 2018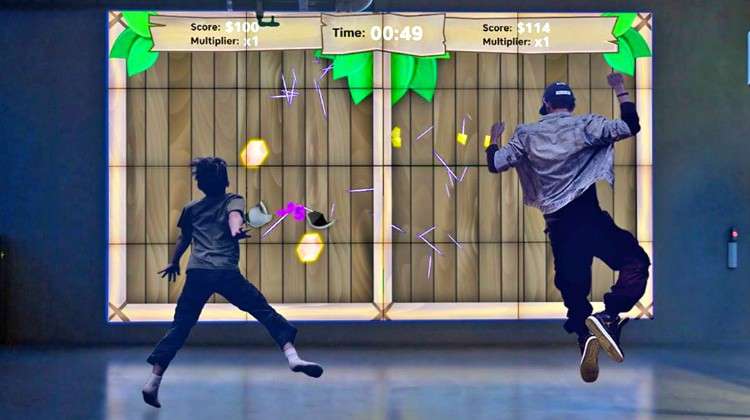 images: LUMO INTERACTIVE
Lumo Play is an interactive display software that turns floors, walls and digital displays into engaging, motion-reactive environments to deliver a wide range of immersive interactive experiences.
Lumo Play is an interactive display and projection software that allows users to make any digital display interactive. The platform is a fun, educational toy that makes it possible for children to create their own games using code-free tools and design their own interactive projection environments using their own artwork. Lumo Play users can also choose from hundreds of different games that are available with the software to transform their environment into an interactive experience. With more than 30,000 active installations around the world, Lumo Interactive's projection software is the world's most popular interactive floor and wall platform.
Combining engaging digital content with active physical play, Lumo Play offers users endless possibilities for creating their own interactive displays and digital signage using a patented template system for custom game creation. The displays can be used in advertising, educational environments, museums, at trade shows, festivals and various other events. The games and displays interact with users by touch, gesture or motion. The existing games developed for the platform can be projected on touchscreen displays, floors or walls to turn digital displays into engaging interactive walls, motion reactive floors or touch controlled windows.
Lumo Play is relatively simple to install. All it requires is a Windows or Mac computer, a sensor and a display. The computer runs the software, the sensor tracks the user's movements and gestures, making it possible for the games to react to them, and a projector or monitor displays the games. The software also works on touchscreens, which do not require a sensor because they track the user's gestures themselves. The platform works with any digital display, touchscreen, projector and almost any computer. Owners of Windows PCs can use the Orbbec Astra or Orbbec Astra Pro sensor, the Kinect for Xbox One or a USB web camera as the sensor.
In addition to the hardware, users need a Personal or Pro Lumo Play license, available for a one-time payment, to access hundreds of games available in the Lumo Play library and to use the patented Motion Maker templates to customize their own games and effects. The LUMOplay Personal license is perfect for education, therapy, sensory games and home users, while LUMOplay PRO is typically used for advertising, commercial digital signage and events, as it allows users to schedule playlists, manage all their interactive displays from the cloud, and use a custom installation data reporting feature.
Lumo Play has a global network of resellers to provide support for the platform. The Lumo Play Reseller Subscription Program is designed to help resellers successfully market the software and generate maximum profits. To ensure their success, resellers get priority support, tried and tested marketing materials, unlimited access to all the games, effects, Motion Maker templates, and highly competitive discounts. Resellers can manage their clients' online installation remotely and use their own company logo and colours to rebrand the Lumo Play Pro software.
Lumo Interactive was one of the innovative companies exhibiting at the 2018 CES trade show in Las Vegas. They shared a booth with Orbbec, the developer of their preferred motion sensing technology for interactive installations.
Watch the video below to see how easy it is to set up an interactive installation using Lumo Play at home.