Mall Shoppers Take on Goji Play on Elliptical Trainers
BY: FG Team
14 August 2015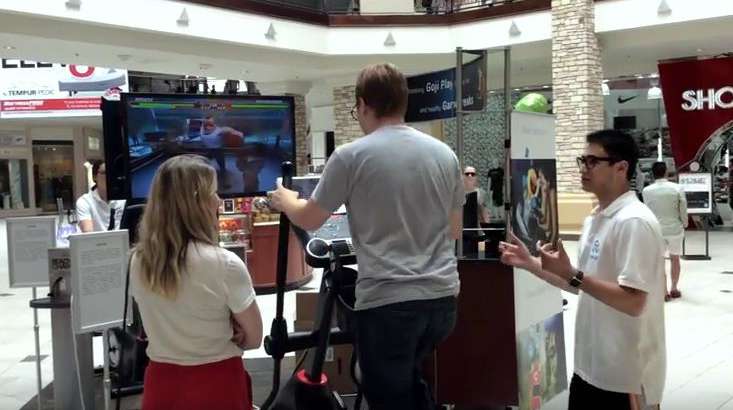 images: BLUE GOJI
Blue Goji challenged shoppers at Barton Creek Square in Austin, Texas to try out Goji Play on elliptical trainers to win prizes.
Blue Goji launched a weekend prize contest at Barton Creek Square, an enclosed shopping mall in Austin, Texas, this summer, challenging shoppers to try out Goji Play while exercising on elliptical machines for a chance to win prizes. The company set up a Blue Goji Game Breaks Kiosk at the mall and gave away 15 Goji Play sets and two Schwinn cardio machines to the luckiest contestants during the campaign. Sponsored by Blue Goji and Nautilus, the contest was held on June 27 and 28, July 4 and 5, and July 12 and 13.
Goji Play consists of an activity sensor and a set of wireless game controllers that allow users to play a variety of games while doing their cardio workouts. The game controllers can be attached to fitness machines with Velcro straps, while the sensor can be secured to users' shoes or pocket to monitor their activity during the workouts. The sensor tracks time, distance and calories burned. Goji Play also allows users to set personal fitness goals and track their progress.
The technology can be used on any cardio machine – treadmills, ellipticals or stationary bikes – to make the time spent exercising go by more quickly and distract users from fatigue and the monotony of cardio training. All users need to access the library of games available for the device is an iPhone, iPad or iPod Touch. Goji Play connects to iOS systems via Bluetooth 4.0.
Based in Austin, Texas, Blue Goji specialises in developing fitness gaming devices that make cardio just speed along. Game Breaks at Barton Creek Square was one in a series of events organised to demonstrate Goji Play and show people that achieving personal health and fitness goals can be a fun, engaging experience.
Watch the video to see how the mall visitors handled the task.