Neo-One Interactive Installations with a Broad Catalogue of Games
BY: FG Team
7 December 2021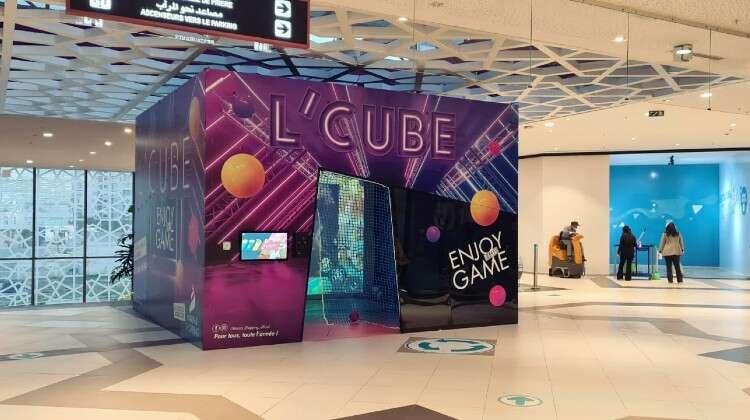 images: NEOXPERIENCES
NeoXperiences develops immersive and interactive playgrounds. Technology enables the creation of interactive experiences in physical space through fun and varied games.
French company NeoXperiences provides interactive gaming experiences as standalone products and offers Neo-One solutions as a service for events. In a nutshell, Neo-One has interactive playgrounds with a high level of immersion, and the company has over 15 years of experience in mixing technology and games.
From the user perspective, products offer interactive walls with games setup in-game space of at least 4x4 meters. The room also needs to be at least 2.8 meters high. Other requirements besides the Neo-One system include internet connection, smooth and rigid wall surface for projections and adjustable dim lighting.
The technology behind Neo-One solutions
To create immersive gaming action, you must have hardware components. The interactive system has an image capture module to transform walls into interactive surfaces. A digital module, professional laser video projector, and powerful gaming computer are other components of Neo-One solutions. The system also has DMX lighting and a speaker system to create a plausible immersive feel. You can manage the system over a remote 27'' touchscreen through a player and an administrator interface.
Neo-One products and services
Neo-One Solution is an adjustable interactive solution for spaces beginning from 16m2 that can adapt to customers configuration and available space. Group of players can take up available space and play games interacting with the projection on the wall. Thus, you can transform a room into a dynamic and interactive playground.
Neo-One Arena is an upgrade over Solution because it adds a modular metallic structure with cladding panels and an interactive wall. The arena has a game area of 25 m2, but there is also a possibility to adapt to available space. A fully equipped turnkey game arena creates a spacious playground with interactive games projected on walls. 
The company includes software and game updates, and online support, while you can request delivery, installation and repairs. You can also rent Neo-One through event products: Neo-One Event and Neo-One Event Arena. These are scalable solutions with additional metallic barriers and a high capacity of players per hour.
Neo-One game catalogue
NeoXperiences provide 13 games that go along with their interactive playground products. All games are regularly updated, and new games are in the pipeline. In addition, you can find a game for various players ranging from titles for smaller kids to games for a broader audience. 
Ice Cream Factory is a five minute game for 2-6 players where two teams compete who will serve most ice cream. Totem Craft is for players from 8 years, and up to six players must collect as much material as possible to create the highest totem for ancient gods.
Heroes vs Invaders lets four players shoot penalty shots against the best fantasy goalkeepers in the galaxy. Spot the weakness in every goalie and score the most goals to win. In Woolly Land, up to 8 players must protect sheep from the wolves by throwing balls at them.
Clean the Ocean is a game where you destroy waste in the water and repair your submarine. Other games available at the moment are: Treasure Island, Zombie vs Brains, Break-IT series of games with soccer, rugby, and handball, Oxo, Angry Birds Smash and Oni Gokko.
Check out the video to get the feeling about the interactive and immersive games in a spacious mix of the digital and physical playground.