NEOS 360 Electronic Playground Delivers Action and Fun
BY: FG Team
3 November 2015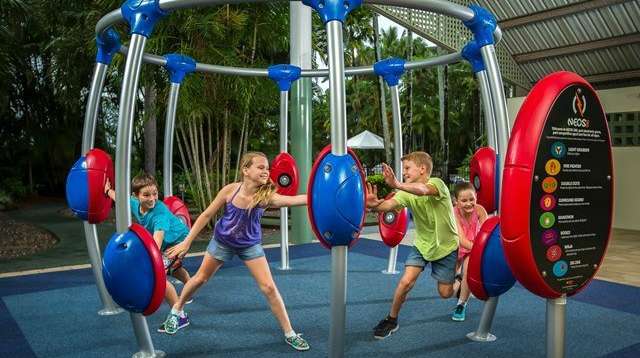 images: PLAYWORLDSYSTEMS, IPLAYGROUNDS
NEOS 360 Original and Accessible electronic playgrounds are built to offer safe, exciting outdoor games to children of all abilities.
NEOS 360, the interactive electronic playground created by Playworld Systems, combines the thrill of video games with aerobic exercise and the rush of outdoor play, providing kids of all ages and abilities with a fun, safe, healthy outlet for their energy. NEOS playgrounds are designed to help develop children's strength, coordination, agility, and stamina.
The NEOS 360 electronic playground delivers 360 degrees of exciting, head-spinning games. The circular design helps improve kids' auditory and spatial awareness and peripheral vision as they move around the playground, playing games and competing with their friends.
The electronic playground comes with eight games which can be played by one or two players. The system has a freestanding control panel with instructions on the back. The top button height on the NEOS 360 Original is 1,5 m or 4'11''.
The electronic playground is also available in an accessible version. The NEOS 360 Accessible has a top button height of 1 m, or 3'4'', so that kids of all abilities can reach the buttons without difficulty.
NEOS 360 weights 369 kg (814 lbs) and takes 5 hours to install. To see the system in action, watch the video.
Related articles: 
Playworld Systems to Showcase New Playground Products at NRPA Congress and Expo