omiVista Mobile Makes Any Surface Come to Life
BY: FG Team
9 December 2014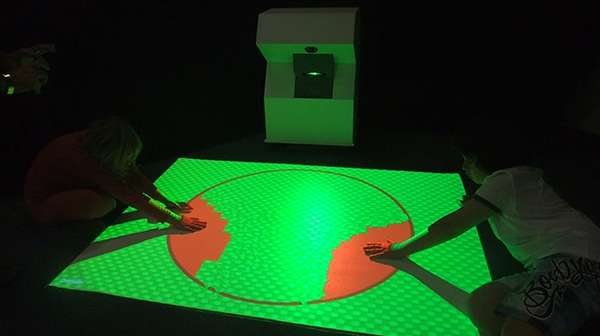 images: OM INTERACTIVE
omiVista Mobile can turn any surface into an immersive virtual experience.
omiVista Mobile is a self-contained projection system powered by EyeClick that creates dynamic audio visual effects and projects them onto floors, walls, tables and other light coloured vertical and horizontal surfaces. The images respond to any movement over the surface, activating different games and effects. Developed by OM Interactive, the omiVista is fully mobile and can easily be moved around the premises and transported from site to site. The system can be customised for use in a variety of settings and allows users to create their own applications using videos, images, and sounds.
The omiVista offers a wide range of immersive games and meaningful interactive experiences for people of all ages and abilities. It can create waves that ripple when users move into the virtual water or let users score goals and hear crowds cheer while they play a virtual football game.
omiVista Mobile is a popular solution among schools as it is wholly inclusive and delivers a fun combination of educational and sensory experiences, allowing students to learn while they play. The virtual experience encourages communication, movement and teamwork, empowering users and stimulating them to keep interacting with the images in front of them. The omiVista supports both independent and group learning, providing educators with a range of options for their classes. The interactive projection system is also an excellent choice for day care centres as it can deliver a variety of playscapes to keep children engaged in exciting virtual environments.
omiVista Mobile comes with more than 300 pre-set applications, the omiVista software with five different templates, a motion tracking camera system, a multi-media PC with a radio keyboard and speakers, a DLP video projector, user control panel, remote control, and mobile cabinet. Clients also get two on-site training sessions to familiarise themselves with the system and all the options available with it.
Watch the latest video from OM Interactive to see the kind of experience omiVista Mobile delivers.