Pavegen LIVE Uses Innovative Green Technology to Power Brand Experiences
BY: FG Team
4 January 2016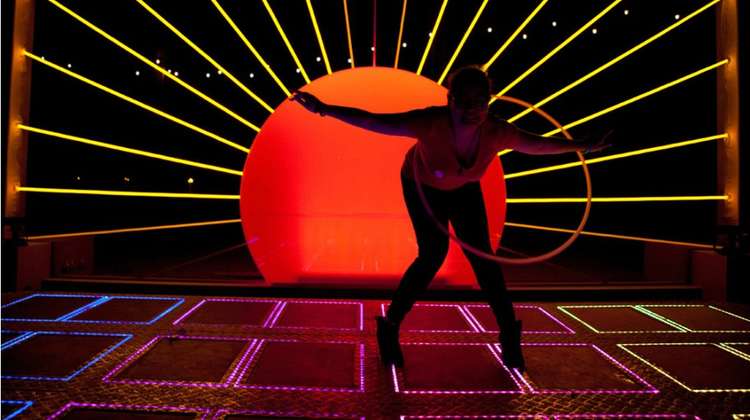 images: PAVEGEN SYSTEMS
Pavegen technology creates unique, interactive brand experiences by harvesting the energy from footsteps and converting it into renewable electricity.
Pavegen interactive flooring technology uses green, people-powered solutions to create memorable brand experiences and infuse events and installations with a unique energy and excitement. Designed for use in areas with a lot of walking traffic, Pavegen interactive tiles convert the kinetic energy from footsteps of pedestrians into renewable electricity. The technology combines multisensory interaction and real time visual feedback with branded solutions to offer a range of possibilities for communication and direct interaction, allowing brands to reach consumers just from a single footstep.
Pavegen tiles are easily installed and can be paired or grouped together to act as a single larger power generating unit. Whenever someone steps on a tile, a central light is turned on, engaging people by connecting them to the part they play in generating energy. The tiles can produce 2.1 watts of electricity per hour, which can either be stored in a lithium polymer battery or used to power low-wattage, off-grid systems like displays, street lighting, signs, speakers, and advertising.
The interactive tiles use wireless API technology to send real time footfall data, which can be accessed using the company's cloud service to measure energy generation from each tile. The data can also be shared live on social media.
The tiles are made from almost 100-percent recycled materials and built to withstand outdoor conditions and lots of traffic. Each tile has a life of about 5 years, or 20 million steps.
Based in London, Pavegen is a clean technology company specializing in developing renewable energy solutions with an emphasis on footfall energy harvesting technology. They develop and manufacture flooring solutions that convert the kinetic energy from footsteps into renewable electricity. Watch the video below to see some of the applications.
The Pavegen concept was developed in 2009 and has since reaped numerous awards and accolades. In the last several years, the company has created innovative solutions for many of the world's leading brands, including Coca Cola, Ford, Lexus, Samsung, Adidas, Hyundai, WWF and Shell.