Reactor Game Unveiled at IAAPA Amusement Expo
BY: FG Team
12 December 2013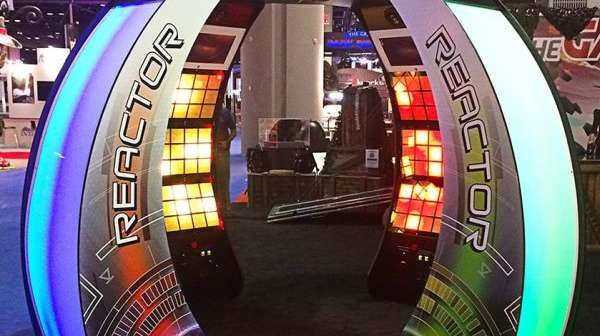 images: ARCHIVE.CONSTANTCONTACT.COM
Creative Works, the company behind the award-winning Lazer Frenzy and AtomicRush,has introduced Reactor, its latest interactive gaming product, at the IAAPA Amusement Expo.
Reactor, unveiled at the International Association of Amusement Parks and Attractions (IAAPA) Expo in November, provides an immersive gaming experience using 144 high impact LED touch sensors and a high fidelity surround sound system with 360 coverage. Its four bionic arches that intersect with an illuminated dome make the small foot print attraction (10'x10') an excellent addition within any arcade. The Reactor game can accept bills, coins, and swipe card systems and has a built-in redemption capability as well as a bonus match play option to encourage repeat play. The Auto Attendant design makes Reactor particularly convenient for arcade owners during busy or slow hours. Up to four players can just pay and play, and no staff is required to operate the game.
The Reactor game requires players to swipe coloured touch tiles as quickly as they can to get the highest score. Four players can compete against each other at a time, and the speed and skills required make the game pretty fast-paced and action-packed. The players, surrounded by pulsating lights and interactive features, must stay focused and listen and watch very carefully as the colour may move to different stations. The game is easy to understand to players of all ages, and simple to install and operate.
Jeff Schilling, President of Creative Works, said in a release, "We were looking to create a product that solves multiple problems for arcade owners. Reactor is perfect for the centre of an arcade. It doesn't restrict crowd flow and it is a game for any age demographic. We are excited about the response we received at IAAPA this year." He added "We feel that Reactor is the next step into helping modernize the FEC industry."
Jack Turner, owner of Lazer Blaze in Louisville, Kentucky, points out that innovative products like Reactor are vital to the industry. "As long as there are companies like Creative Works, who are forward-thinking and innovative, this industry will continue to flourish," he says. "Technology is booming and flexibility is crucial to remain a successful FEC."
Creative Works has more than 15 years of experience in the entertainment industry and has designed, installed, and built standalone attractions and entertainment venues in thousands of locations across the globe.