ReRave Plus Unveiled at IAAPA
BY: FG Team
19 November 2013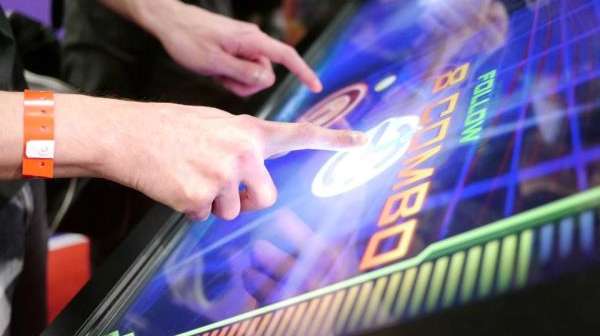 images: RERAVE FACEBOOK, STEP REVOLUTION
Step Evolution will present the new generation of ReRave, ReRave Plus, today at the IAAPA Attractions Expo in Orlando, Florida.
ReRave Plus, the next generation of Step Evolution's ReRave game, will be unveiled today at the International Association of Amusement Parks and Attractions Expo, which runs from November 18 to 22 at the Orange County Convention Center in Orlando, Florida. ReRave Plus has a new arcade design and will be available as a dedicated arcade machine with various upgrade kits. The game will also be available for Android devices.
The website ReRave.com has shown a countdown for months, but did not specify what it was for until today, when the new release and the trade show appearance were announced. The ReRave Plus release contains new songs, new graphics and interface design, a new cabinet, and a ticket redemption option. The design features more LED lighting, curves on the cabinet, and two screens, with the touchscreen sligthly smaller than in the original version of the game. An upgrade kit will be available to those looking to enhance their existing ReRave Arcade machines and the new software will also be available for Android devices.
ReRave was originally launched in 2011. The game is available for Apple iOS devices including iPhone and iPad, allowing users to interact with the software on a number of platforms. The existing version of ReRave, available from the iTunes store, has had excellent reviews from users and currently has a five-star rating. The arcade version of the game, available for public entertainment centers and other gaming and public amusement environments, was created by Step Evolution in collaboration with Coast to Coast Entertainment.
ReRave is a reaction-based rhythm game that uses rotating power symbols on a touchscreen and combines rhythm and accuracy to create a fun, challenging experience for players of any age and skill level. The symbols on the screen must be tapped, held, or traced when they hit the peak of their rotation. The player gets directions from coloured markers, which indicate which of these actions is needed. The music featured in the game is similar to that used in dance games, and players with a good sense of rhythm always have an advantage. Each song used in ReRave has three tiers of difficulty and players' achievements are tracked for timing, accuracy, grades, and placements.
Find ReRave at booth #2003 at the IAAPA Attractions Expo for more information about the new release.