Speed of Light: Unique Redemption Game That Tests Players' Reaction Time
BY: FG Team
6 January 2013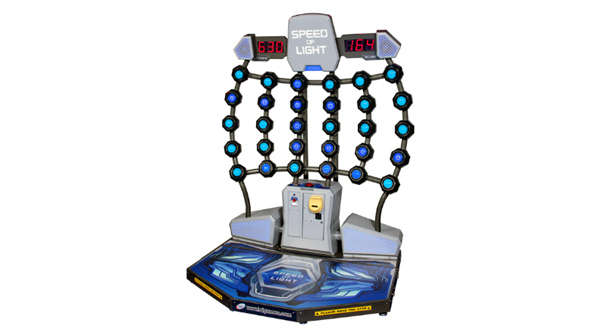 images: LAIGAMES.COM
Speed of Light, a redemption arcade game developed by LAI Games, is a unique arcade offering that challenges players' reaction time.
Speed of Light, a redemption game created by LAI Games USA, a subsidiary of Leisure and Allied Industry (LAI), is a creative solution for entertainment centres that tests players' reaction time and grabs their attention with a unique concept that combines the addictiveness of gaming with a test of players' reflexes. The arcade game won the Best of Show Award: Silver Medal in the Redemption Arcade Game category at the 2011 International Association of Amusement Parks and Attractions (IAAPA) Expo for its creative concept and market relevance.
Speed of Light uses a light matrix to challenge players' speed, asking them to press lit buttons as quickly as possible to score points and win tickets. The faster the players move, the more they win. The game uses lighting effects and energising music to immerse players in the fast-paced atmosphere, and it allows operators to select different scoring and bonus options.
Speed of Light consists of an open lattice, eight feet high, and a backlit platform, which makes the arcade an attractive addition to any centre. The frantic gameplay and competitive ticket redemption are some of the features that make the game an appealing choice for the centrepiece in any setting. The game supports one- and two-player gameplay options.
LAI Games USA specialises in interactive entertainment and has been in the gaming industry for more than 50 years. The company has a research and development team that brings together game developers, 3D artists and programmers from around the world. All the games are thoroughly tested before they go into mass production. LAI Games develops and manufactures ticket redemption games, coin operated games, kiddy rides, and photo booths, and its products are used in entertainment centres around the globe.
To see how Speed of Light works, watch the video.