Why Rugged Interactive's Gamification is the key to Repeat Visits and Increased Revenue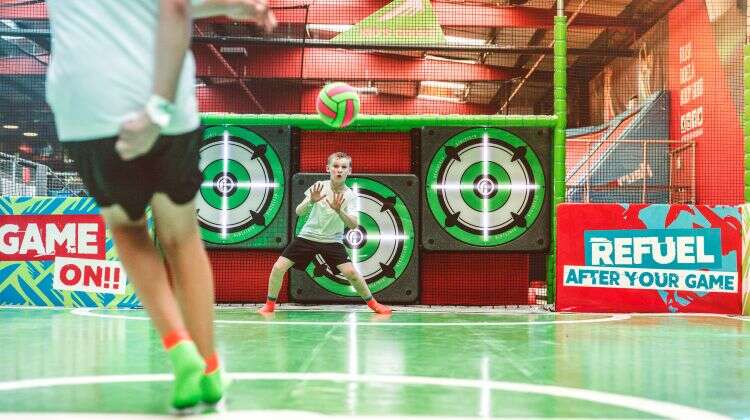 images: RUGGED INTERACTIVE, HANGAR 646
Rugged Interactive are world leaders in gamification for indoor adventure parks and FECs. With over 10 years of experience using their interactive technology to enhance games and sports, they now have a wide range of features for every type of indoor adventure centre.
Gamification is pivotal in addressing the perpetual question - how to drive repeat business and keep visitors coming back for more. Rugged's interactive products are designed to be addictive to play, easy to operate and most importantly, create memorable experiences for guests.  
Helping you to Create Memorable Experiences
"Just bouncing is boring" has become a well-coined phrase for trampoline park builders and operators. Guests expect more than just a day out; they want memorable experiences that they can't get elsewhere.  The best centres and parks in the industry are seen as 'destinations', not just for kids, but for parties, teens and parents too. 
Through the power of gamification, Rugged have created features that use times or scores to create challenge and drive repeat use. By setting users a goal to beat, the products lend themselves perfectly to 1v1 duels, team competitions and leaderboard challenges – perfect for birthday party activities and social media marketing.
It's widely recognised that gamification is highly motivating for users.  From reaction games to climbing challenges, target systems to raceway timers, Rugged has an interactive to liven up any space, no matter how big or small. 
Freedom Gaming - The New Kid on the Block 
Imagine an obstacle course, arena structure or soft-play frame – always a favourite feature to install, but rarely the most popular areas. Now picture that structure alluringly illuminated with interactive lightpods, that players must reach as they compete against time or to climb the leaderboard. Well, that's where Rugged comes in! Introducing Freedom Gaming - a competitive interactive arena of fun and activity for all the family. 
Freedom Gaming is a tag system that is easy to operate and ridiculously fun to play. It doesn't need wristbands or RFID sensors, so operators can choose to use Freedom Gaming as a self-run 'press and play' game for visitors. Alternatively, there's the option for a more organised team login system for groups, birthday parties and pay-to-play events. 
Installed in venues around the world, Freedom Gaming has helped drive repeat visits, increased birthday party bookings and boosted customer satisfaction scores. 
Tom Filer, Owner of two family entertainment centres in the UK, was one of the first to install the system. Since doing so, his customer satisfaction (Net Promotor Score) has increased from a highly creditable 70% to an astonishing 82%, he has boosted his birthday party bookings and income, and widened his target demographic – now attracting more groups of older kids during typically quiet times. 
Freedom Gaming has already proved to be an income generator, so the question is – are your guests ready to take on the challenge?
Getting Things Bang on Target
Kicking or throwing a ball at a target – kids (and adults) absolutely love it. But the excitement can soon wear off, right? Not when you add lights, sounds and scoreboards into the mix! Rugged Interactive have a fantastic range of target games to enhance dodgeball courts (DodgeAttack), soccer arenas (PowrPlay), nerf shooting galleries (Ballistics Ball Targets), cageball arenas (AeroStrike), and basketball hoops (BattleBaskets). Each of these games is timed, increasing throughput of players and allowing games to run themselves – reducing the need for staff marshalling.
Operators who have installed PowrPlay have reported a huge increase in new 'football fan' visitors, who then return for more. Local football teams make bookings for team building and skills training, trampoline parks are working with companies who run soccer training for tinies and tots, and they've seen increases in football-specific birthday parties. Gobid, Owner of FlipOut Aintree said "After we installed PowrPlay, we had 3 new birthday party bookings within 2 weeks – that's not a coincidence!".
However, it isn't just an increase in visitor numbers and repeat visits that interactives can help with. Many trampoline park operators find dodgeball courts a huge headache with injuries, arguments and fights breaking out between players. Rugged's DodgeAttack targets completely change the picture. Instead of players aiming at each other, they're hitting their opponents' targets, while defending their own – a real game-changer. As Simon, Manager of iBounce, explains - "One of the advantages of DodgeAttack since we put it in is that we've reduced accidents by 90%. Kids are aiming at targets rather than each other's heads!"
Similarly, Christoph Christou, Owner of ARC Trampoline Park said; "Previously, we had many customers that were coming out [the dodgeball court] crying. After installing this DodgeAttack system here, the problem was eliminated. It's definitely a wow factor in our park and I would definitely, definitely suggest everyone using this system."
Interactive Climbing at its Best
Most indoor adventure centres will have an element of climbing. However, it's usually one of the most underused features in the park due to uncomfortable grips, difficult holds and a lack of real excitement. Rugged's answer? The TrailBlazer – an interactive climbing wall with easy-to-hold grips that are comfortable to use with socks on! The TrailBlazer fits flush to the wall with a capacity of up to 8 players. No ropes are required as the kids traverse along the wall, scoring points by pressing out the illuminated climbing grips.
A firm favourite for kids aged 4-14 years, TrailBlazer is the perfect start to birthday parties to get the group playing and competing together. TrailBlazer can be personalised with your logo and branding, which means every time a photo or video is uploaded onto social media, your park's name is splashed all over it! For operators, this stand-out feature has been their surprise marketing masterpiece. 
The Only Problem is… If you Go Interactive, You'll Never Go Back!
Choosing the right features for your target age group that entertain, excite and bring visitors back for more is never as easy as 1, 2, 3. But with Rugged's ABC, they've made that decision a simple one. 
A – Appeal to more. Choose features that help widen your appeal. Whether that's a wider age group, new sport teams or more parties. 
B – Be different. There's choice everywhere, so create a park or centre that they CHOOSE to come to. Have differentiators, features they can't play on elsewhere. 
C – Create memories. Make every visit memorable. Excite, delight, challenge and celebrate your visitors.
By choosing interactive, you're guaranteed to create an indoor play centre that does all three of these things, leading to more new and returning visitors that keep your revenue on the rise.