Augmented Climbing Wall Invigorates Activity Parks with Interactive Climbing
BY: FG Team
1 November 2017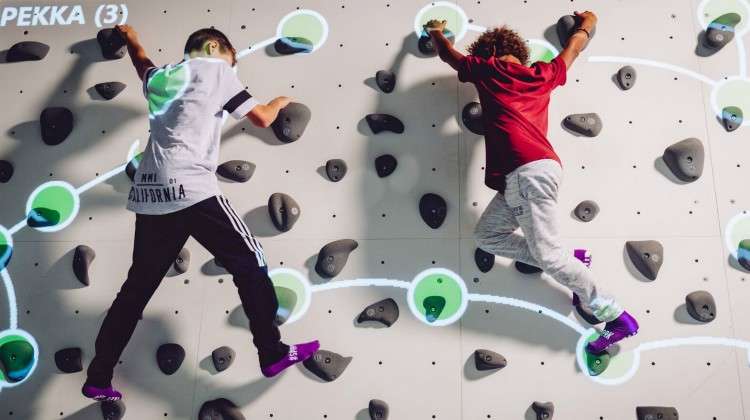 images: VALO MOTION, SUPER PARK, JUMP NINJA
The Augmented Climbing Wall has brought indoor wall climbing games and training programs to several of Europe's popular activity parks.
The Augmented Climbing Wall has introduced a unique gaming experience to activity parks in Europe and around the world and received a lot of enthusiastic feedback from climbers. Valo Motion's augmented gaming solution for climbing and bouldering walls turns rock climbing walls into interactive game areas, enabling visitors to improve their climbing skills in a fun, playful way
SuperPark is one of the indoor activity parks that are currently using the platform. With multiple venues across Finland, the park offers children, teenagers and adults a diverse range of fun activities, games and adventures that the entire family can enjoy. The Augmented Climbing Wall was first installed in the park in 2016 and can currently be found at three locations in Finland, in Oulu, Espoo and Vantaa. It will also be one of the attractions at the park currently being built in Hong Kong.
The innovative climbing solution has proven to be a good fit for the three venues, which offer the ultimate activity park experience for everyone and draw visitors for family days out, team building activities, and corporate outings throughout the year. In addition to testing their climbing skills on the climbing walls, visitors can play different games in the Game Arena, jump on trampolines or skate and scoot in the Freestyle Hall. A number of these experiences combine physical exercise with digitality to make the park's offering more memorable and unique.
The Augmented Climbing Wall has received very positive feedback from SuperPark visitors and is now one of the park's most popular digital games. "In SuperPark, we have lot of users from different age groups and from different backgrounds," says Taneli Sutinen, Development Director at SuperPark Ltd. "One of our main goals is to get all people to move in a fun and interesting way. The Augmented Climbing Wall is a good example of an activity which works from beginner to professional. Normally our users play a few games every now and then and they also return to use the product during the SuperPark visit."
Motor Skills Training with Augmented Climbing Wall
The Augmented Climbing Wall also makes an excellent solution for gyms, shopping centers and various events, where it can draw visitors' attention to specific products and brands or just deliver some excitement as an added attraction. The platform was originally developed as part of a research project at Aalto University in Finland to provide a climbing solution that accelerates the learning of motor skills while simultaneously offering a fun, enjoyable experience as an alternative to monotonous practice.
The system projects graphics on indoor rock climbing and bouldering walls and tracks climbers' movements to create various training programs and interactive games for one or two players. It recognizes individual body parts and responds to climbers' movements in real-time. The games and training applications are easy to customize for any age or skill level and the intuitive touchscreen interface is easy to use even for younger visitors. New interactive games and features are constantly added to the platform to ensure that the climbing experience always stays fresh.
Climbing Games for Bouldering Walls
The Augmented Climbing Wall is also an excellent tool to enhance training as it has the ability to project some of the climbers' working problems. Bouldering, which originated as a method of training for top roping and mountain climbing, allows climbers to practice specific moves and is a very social activity, with climbers helping each other work through different problems. Most indoor climbing walls feature multiple problems, forcing climbers to use highly technical movements while maintaining balance and body positioning and supporting their body weight.
The games and training programs available with the Augmented Climbing Wall make the climbing experience even more social and fun, motivating climbers to keep coming back and providing them with feedback to help them improve their skills. The interactive platform offers a versatile range of experiences even on small walls, with several interactive games that always create new challenges and hundreds of different climbing routes for climbers to explore.
The installation at Jump Ninja in Manchester, one of the five centers in the UK that are currently using the platform, has been a huge success with visitors of all ages. A study conducted by Optoma, a leading manufacturer of projection and audio solutions, showed that the gaming system was popular both with kids and with serious climbers.
"We launched Jump Ninja in April with both the Augmented Climbing Wall, interconnected trampolines and obstacle course. Our customers' response to the wall has been incredibly positive," said Hailey Edwards, who at the time served as General Manager at the center. "I hadn't expected it to be as popular as it is. The children love it but it is also attracting serious climbers to our centre."
"We are seeing more groups, such as local climbing clubs, coming and spending several hours training on the wall. So, it is attracting groups and individual climbers that wouldn't necessarily have considered coming to the trampolining park."
Indoor climbing and bouldering walls give climbers an opportunity to climb in a safe environment without worrying about the weather outside, while the interactive platform always delivers the right amount of challenge.
The JumpStation Trampoline Park in Livingston, Scotland was the first UK center to install the Augmented Climbing Wall. The park's JumpWall installation has elicited a similarly enthusiastic response. Watch the video below to see the experience that the platform has brought to the park.