Bitelli Trainers Offer Immersive Virtual Road Simulation for Indoor Cycling
BY: FG Team
30 January 2017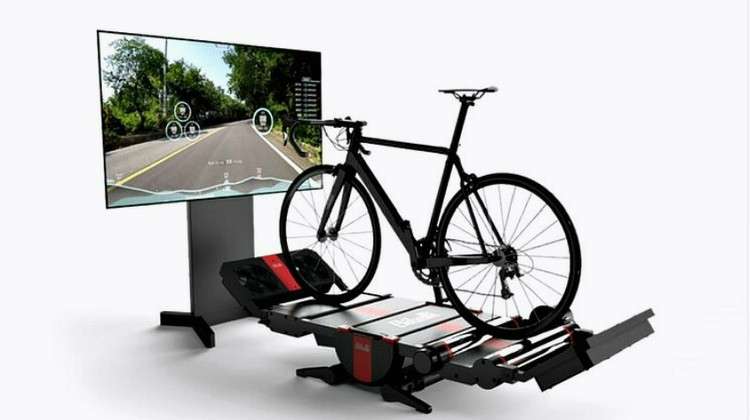 images: BITELLI
Bitelli's indoor virtual road simulation platforms deliver a unique experience of cycling, combining challenging workouts with immersive entertainment to fuel users' passion for exercise.
Bitelli's innovative indoor cycling platform is the first product of its kind that combines intense workouts with immersive virtual reality environments to deliver exciting riding experiences for indoor cyclists. The platform uses either a speed treadmill or roller to simulate natural, comfortable cycling and to provide users with exceptional balance and steering control, while also engaging them in full HD videos displayed on a 65-inch screen. The automated road replication feature simulates gradients of up to 20% both uphill and downhill, creating real-life conditions, while the Bitelli app controls speed, resistance, slope and wind.
The Bitelli platform is available in three versions: Pro (Premium), Lux (Advanced) and Classic. The Bitelli Classic allows riders to enjoy cycling courses of different lengths and feel them through their feet. The platform uses three drums, including two training drums, that produce less slip and increase friction. It also has a safety bar that allows users to stand without needing to dismount their bike.
The Bitelli Pro, the premium model, uses a 65-inch screen and motion camera to enhance users' riding experience with real-time feedback and immersive visuals. The Pro and Lux models both use hydraulic presses to automatically adjust the terrain based on the selected course. The rounded design of the bottom reduces vibrations and noise, offering a smoother and more comfortable ride. The trainers are available with an optional wind blower, which uses three speed blowers to provide natural resistance or support. Like the platform itself, the wind blower automatically adjusts to the rider's speed. The optional safety bar ensures stability and balance during the ride and offers easy access to the start and stop options on the touch bar.
The Bitelli software interface offers two modes, manual and training. The manual mode allows users to adjust distance, angle, slope and progress for their workouts, while the training mode lets them simply import any existing GPX courses.
The Bitelli platforms track a range of parameters during training, including speed, heart rate, calories burned, and torque. They are compatible with other popular products that use the ANT+ protocol, including Wahoo, Zwift, Garmin, Giant and Brighton.