Bravo Golf Simulator Uses High Speed Sensors to Deliver Realistic Golf Practice and Play
BY: FG Team
11 January 2017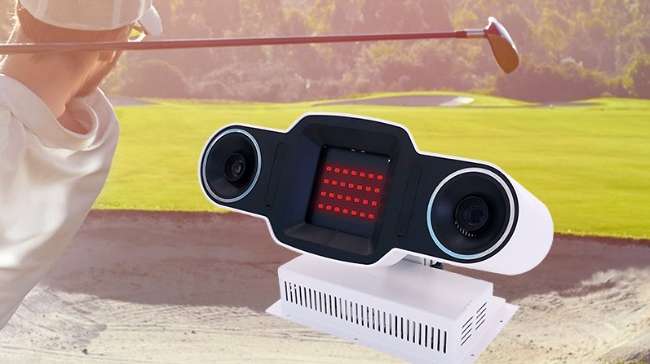 images: GAME SPACE
The Bravo Golf Simulator uses a fast sensor, high performance equipment and interactive games with a realistic golf course design to deliver a variety of options for indoor golf practice and entertainment.
The Bravo Golf Simulator uses a high-speed camera sensor, high performance hardware, and detailed, highly realistic golf course simulation to offer users a variety of options for golf training and playing interactive games with friends in person or online.
The sensor system offers three-dimensional tracking of ball flight, enabling users to measure their shots with 99.9% accuracy. The sensors track ball speed, trajectory, azimuth, back spin, side spin, and club speed, allowing golfers to enjoy a realistic golf experience, as well as to analyze and improve different aspects of their game. Golfers can also use one or two cameras to check their swing form using a swing replay function, which lets them analyze their swing from multiple angles and compare it to that of a professional golfer.
In addition to the swing motion camera, the equipment that comes with the Bravo Golf Simulator includes Bravo bunker grass, a swing plate, an auto tee up machine, and a key pad that supports an easy, simple menu, allowing users to play without having to go to the computer.
The games available with the simulator use 3D graphics and satellite data to deliver a realistic simulation of golf courses and offer a user-friendly screen layout. All the objects on the golf course, including grass, trees, water and flowers move as a result of the conditions in the environment, such as wind and light. The games always reproduce the physical laws of nature depending on the flight of the ball.
While playing, users can see information about the hole, the selected club, and the players, and they also have a course map and game menu displayed on the screen. The software offers them a number of practice features and different modes that are suitable for both beginners and advanced golfers. Players can check their stats and swing videos online, where they can also manage their friends. The Bravo Golf app for iOS and Android offers them easy access to all these features on their smartphone.
The Bravo Golf Simulator was developed by Game Space Co., Ltd, a global supplier of high quality consumer and commercial grade golf simulators. Based in Hanam, South Korea, the company has more than 15 years of experience in developing and marketing golf simulators, sensors and games. Watch the video below to learn more about the Bravo Golf Simulator and some of the options available with it.