ClimbStation K.E.R.S. Uses Adaptive Speed and Tilt Angle for More Versatile Climbing Experience
BY: FG Team
3 August 2017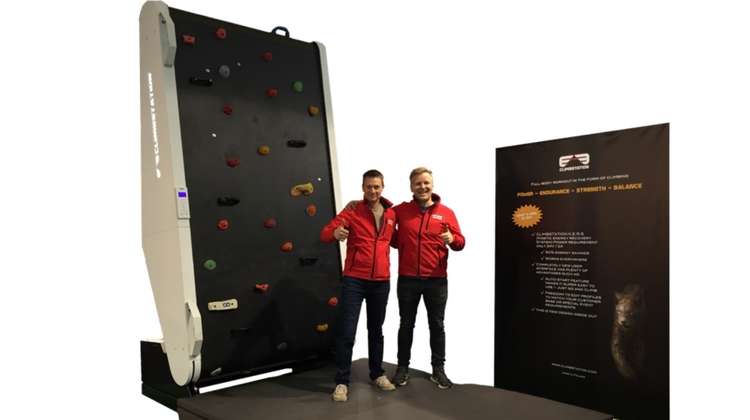 images: JOYRIDE GAMES
The ClimbStation K.E.R.S. is an interactive climbing solution that uses adaptive speed, different tilt angles and multiple levels of difficulty to deliver an improved climbing experience.
The ClimbStation K.E.R.S. (Kinetic Energy Recovery System) is an innovative climbing solution that creates energy from the climber's weight to offer an interactive climbing experience with energy savings of up to 90%. The climbing station detects the climber's weight and automatically starts the training program, and its innovative technology can find the optimal speed for both light and heavier users. The station has adaptive speed control, automatically adjusting the speed based on the speed and weight of the climber to deliver a dramatically superior climbing experience. Its top rolling speed is 25 metres per minute.
The climbing station gives users a full-body workout, training their strength, power and endurance and provides them with their performance stats in real time, including speed, distance, time and calorie burn. The user interface is positioned on the front side, allowing the climber to use it while climbing. It has shortcut buttons that allow users to adjust the level of difficulty, average speed and angle at any time.
The station has 10 difficulty levels, ranging from beginner, warm-up and easy to superhuman, conqueror and manual, and it can be used at gyms and fitness centres, as well as at special events and competitions. It tilts between +15° and -45° to offer just the right amount of challenge for a wide range of users and is suitable both for beginners and experienced climbers. The station is an excellent solution for various events because, thanks to its energy settings, it can be used with a battery pack and works with a 24V/2A energy input.
The ClimbStation K.E.R.S. was developed by Joyride Games OY, a Finnish company specializing in manufacturing advanced automated climbing walls for the sports and leisure industry. The company develops a range of standard and custom indoor and outdoor climbing walls and stations to meet client needs and special location requirements.
Watch the video below to see the climbing experience that the ClimbStation K.E.R.S. offers.