Goji Play 2 Launched with GojiVerse Platform
BY: FG Team
30 December 2015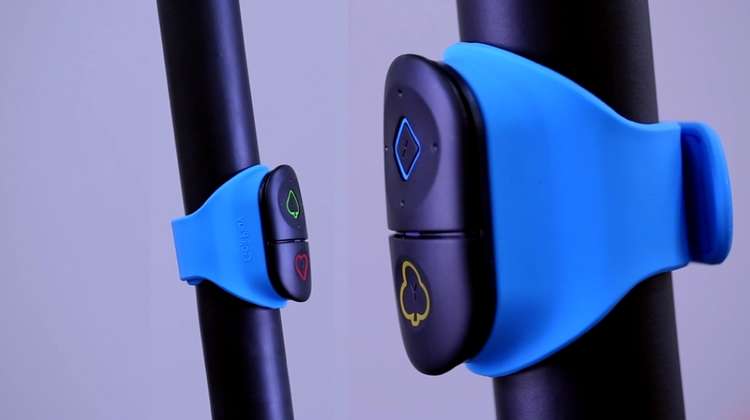 images: BLUEGOJI
Blue Goji has launched the Goji Play 2 fitness gaming system along with GojiVerse, a new gamified fitness platform.
Texas-based wellness technology company Blue Goji has released Goji Play 2, an updated fitness gaming system that transforms cardio training at home or at gyms into a fun, gameful experience. Originally launched in late 2013, Goji Play was developed to make workouts on treadmills, elliptical trainers, stationary bikes and other cardio machines more interesting. Designed to help users develop and maintain healthy lifestyle habits, the new system arrives just in time to help millions of people stick with their health and wellness resolutions for the new year.
Goji Play 2 consists of two portable controllers and two foam batons, and is very easy to set up. All users need to do is attach the controllers to their cardio equipment and download the Goji Play app to start playing different games and have fun competing with their friends and family. The technology allows users to control the speed of the movement on cardio machines (ellipticals, bikes, steppers and treadmills while walking), and the games require them to move and incorporate their training intensity and speed into the game play.
Along with Goji Play 2, the company has rolled out GojiVerse, a gamified wellness platform offering a varied range of apps and games to keep a diverse base of users engaged and motivated. The platform does not only support Goji Play training sessions, but also aims to gamify other healthy habits and connect friends and family who share similar wellness goals. GojiVerse allows users to connect, encourage each other to achieve their goals, and engage in friendly competition. The healthy activities are rewarded with GoCoins, which can later be used for in-game purchases and other incentive rewards.
Goji Play 2 users can download up to 20 free games from Google Play or the Apple App Store, including action, racing, arcade and trivia games. The games come with varying play styles and allow users to adjust their training intensity. Puzzle games like Kreature Krunch offer an easy workout, while racing games like Spin or Die offer more rigorous cardio sessions.
"Goji Play 2 will appeal to people of all ages and fitness levels," said Coleman Fung, Blue Goji co-founder and CEO. "If you have good intentions, but need an extra incentive to start exercising or to stick to your training schedule, Goji Play is your answer. With our new Goji Moments feature, users can also share their best or worst game plays with friends and family, connecting with them in a fun, but caring way! What a perfect means for busy moms or dads to connect with their kids and get everyone off the couch!"
Goji Play 2 is now available for users of iOS and Android devices. Watch the video below to see how the system works.