Horse Riding Simulator Provides Complete Solution for Training, Racing and Gaming
BY: FG Team
27 September 2017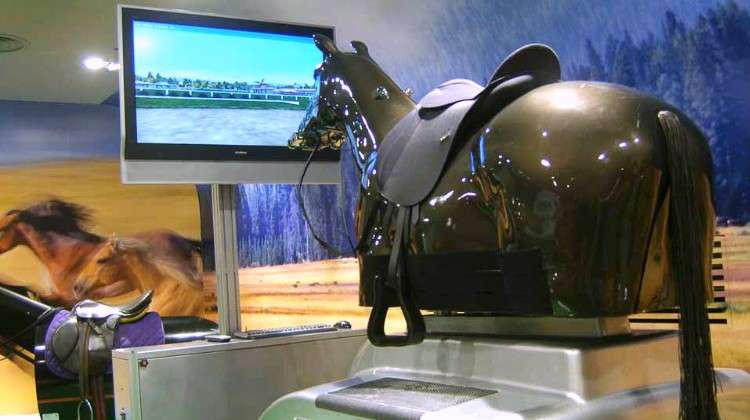 images: NAVI-IT
The Horse Riding Simulator developed by the South Korean company navi-IT is an all-in-one system used for horse riding, racing and gaming.
The Horse Riding Simulator is a professional, fully interactive simulation system designed for riding, racing, training, fitness and gaming. It is a complete solution developed to enable users of all ages to train and maintain their riding skills. The simulator offers a fun and safe way to train and can be used by professional riders, beginners and people with disabilities alike. It is targeted at fitness centers, horse riding schools and other facilities looking to offer their members some variety in their workouts.
Horse riding is an activity that engages multiple muscle groups and offers a good aerobic workout whose intensity increases with speed. It improves endurance, balance, muscular strength, posture and agility. It also cultivates courage, has a positive effect on the rider's ability to focus, and improves the overall sense of well-being.
The Horse Riding Simulator comes with a fitness program that allows riders to track their calorie expenditure and a 3D gaming program that lets up to 8 riders play. The 3D simulation display engages riders in a single player or group racing game to make their workouts more interesting and varied.
The system simulates realistic jumps for a steeplechase, real motion for downhill and uphill rides, and has a spur feature that provides variable speed. The platform offers a highly realistic simulation of riding paces such as gait, canter, trot and gallop. It tracks calories, oxygen and distance during training.
The Horse Riding Simulator can be installed on any flat floor without vibration, in any room that can sustain its weight (640 kg). The recommended ceiling height is at least 2.4 m.
The simulator was developed by navi-IT Corp., a South Korean company specializing in developing horse riding and racing simulators. The company has been creating simulators since 1996 and launched the fully interactive Horse Riding Simulator as an all-in-one system in 2001.