ICON Arena and Precision Wall Accelerate Football Training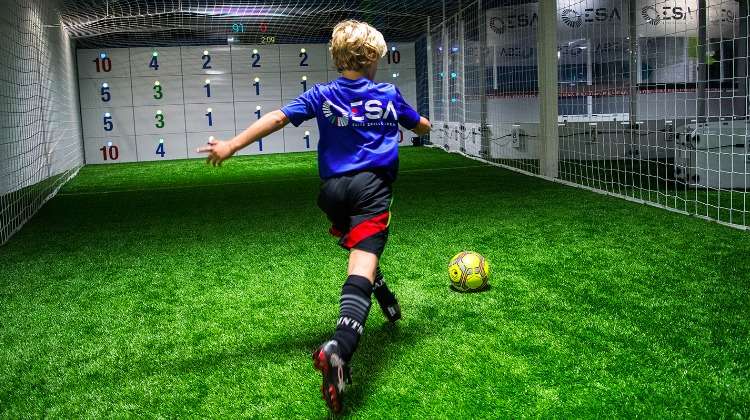 images: ELITE SKILLS ARENA
The ICON arena and Precision Wall are advanced football training aids that help players develop and improve a range of football skills faster than they would in regular training.
The ICON arena, ICON Q, ICON Legacy and Precision Wall are cutting-edge football training products used by some of the world's top clubs to accelerate players' development. Developed by the UK-based company Elite Sports Arena, these products use LED lights and vibration technology to help players improve a wide range of skills, from passing and shooting to awareness and endurance. At the same time, the products offer quantifiable data analysis to provide coaches with insight into players' skills and progress.
The ICON arena has a circular design and puts players in an environment in which they have more touches of the ball in less time. The concentrated individual training and constant repetition are factors that significantly speed up players' development, dramatically improving their technical ability and offering a number of physiological benefits. Training in the arena only three times a week for less than 25 minutes builds muscle mass, lowers body fat and burns more calories than regular sessions by recruiting both fast-twitch and slow-twitch muscle fibers and challenging players to constantly switch between aerobic and anaerobic training. Through regular use, the ICON improves players' aerobic and anaerobic capacity, builds strength and muscular endurance, and improves their cardiovascular health, lowering the resting heart rate and enabling quicker recovery.
The ICON arena comes in a variety of sizes, from 4m to 12m in diameter, and can be customized to meet specific client needs. It is easy to assemble, fully weatherproof and comes with a battery that can withstand multiple training sessions. The arena is suitable for players of all ages.
The ICON Q offers the same benefits as the arena, with a varied range of both individual and team-based training modes. Shaped like a broken circle, it uses 8 light sequences to deliver highly engaging and effective training sessions. The Q can be used on any surface, either indoors or outdoors, and takes only 5 minutes to set up. It is smaller and easier to transport than the arena, offering users more flexibility and just as much fun.
The Legacy, another product in the ICON range, offers an unlimited number of training modes to improve any aspect of the player's performance. It encloses players in an environment with 96 LED targets where they can train and get detailed analytical feedback and video analysis.
The Precision Wall, another state-of-the-art training aid, uses vibration technology to deliver advanced performance training both for teams and individual players. It is the exact size of a football goal and provides players with a realistic environment to train their attacking and defending skills. With 28 targets and a range of training modes, the wall allows players to strike up to 20 shots per minute. It uses an accurate scoring system that challenges players to significantly improve their shooting skills and at the same time provides coaches with the key data that allows them to track the players' performance.
Despite the ICON's success at the elite level of training, it is also used as a marketing and fan engagement tool for companies. At present, TAG Heuer are using the ICON for events globally to market their own brand. TAG have 7 ICON arena's positioned in all corners of the globe and have used them for various sporting events. They run an 'ICON Challenge' leaderboard which allows fans to compete against past and present stars. Because of the gamification aspect, the ICON provides a fun and immersive experience for players of all abilities to enjoy playing football in a restricted space. 
Elite Skills Arena specializes in creating revolutionary training equipment designed to improve players' football skills and performance. Based in Poole, the UK, the company develops innovative products that maximize training intensity for faster improvement and works with major football clubs and local academies to help players develop different aspects of their game. The company's training aids have been endorsed by a number of world-class players and coaches, including Harry Redknapp, Jack Wilshere, Adam Lallana and Rafael Garcia.
Watch the video below to see how the ICON arena makes training more engaging and accelerates players' improvement.