InteractiveSquash Adds Video Tracking and Analysis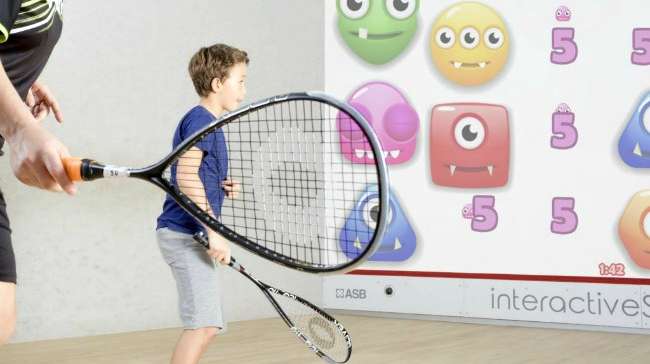 images: FUN WITH BALLS
InteractiveSquash will soon get an update that will enable players to analyze their performance in real time using a live video tracking and analysis feature.
The German company Fun with Balls has announced the launch of a new feature for interactiveSquash – live video tracking and analysis – that will provide players with a better insight into their performance and transform the way they play and train. Players and coaches will also be able to access unlimited footage through the new interactiveSquash App when the second generation of the interactiveSquash platform launches in the coming months.
The upgraded system will come with a set of four cameras – top view, front view, left and right view – strategically placed in the squash court to track players' movements from multiple angles while they train. The tracking feature will allow players to analyze every move they make and every shot they take in real time to enhance training for professionals and learning for beginners. For instance, the platform will use alarm sounds to let players know if they are too close or too far from the wall when they are practicing their drives and guide them back into the appropriate zone.
InteractiveSquash offers a range of fun, addictive interactive games developed to engage users of any age or skill level in the game of squash and to improve their skills using software that trains their speed, accuracy and tactical skills. The platform challenges players with intense cardio workouts, helping them improve their focus, endurance and technical skills that are crucial to squash in the process.
InteractiveSquash provides users with training routines developed by professional players that challenge their strength, balance and agility while giving them a full body workout. The interactiveSquash App already offers players a comprehensive range of training statistics, as well as video tracking footage, which allows them to analyze their performance during or immediately after each action they take, see which techniques are the most effective, and then use the data to pinpoint the winning strategies so that they can use them in further training. The new video tracking feature will allow coaches to review players' data to assess their performance and even coach them remotely. The new app, which will be launched after the platform, will enable players to fully access and use the new update.
The upgraded interactiveSquash platform and the new app will be available in the summer.