InteractiveSquash Wins 2017 ISPO BRANDNEW Award
BY: FG Team
4 January 2017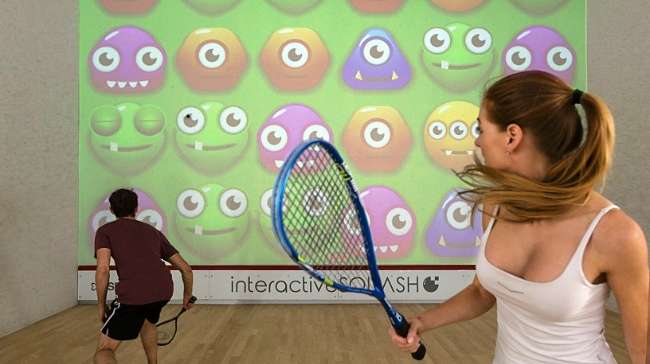 images: FUN WITH BALLS, ISPO BRANDNEW
German company Fun with Balls GmbH has won the 2017 ISPO BRANDNEW award for best product in the fitness category for its innovative squash training platform interactiveSquash.
Fun with Balls GmbH, the Munich-based developer of immersive solutions designed for use in sports, has won the 2017 ISPO BRANDNEW award for its unique squash training concept interactiveSquash. The innovative interactive platform was named the best product in the fitness category and announced as one of the winners in early December. Along with the other winners, interactiveSquash will be honoured at the upcoming ISPO Munich, the leading international trade show for the sport business, which will be held at the Messe München exhibition centre in Munich from February 5 to 8, 2017.
interactiveSquash combines the classic game of squash with innovative technology to allow players to play a number of exciting games, test and compare their skills with other players around the world, and train with smart real-time feedback. The platform uses motion sensors and an overhead projector to enable players to immerse themselves in an interactive game of squash to improve their conditioning, hone their skills, or compete with others. Immersive projection graphics and gameplay transform the classic game into a unique new experience, while the hardware, developed in collaboration with leading sports court builder ASB Squash Courts, expands the functions of a regular squash court, enabling players to get into shape and improve their squash skills through digital coaching and addictive gameplay.
ISPO BRANDNEW is the world's largest platform for startups specializing in the field of sports. Launched in 2000 to support the most promising newcomers, ISPO has awarded a number of young enterprises who went on to make a big name for themselves in the sports industry, including GoPro, Nixon, On, Naish Kites and Maloja. The winners are selected each year across several categories: fitness, accessories, wearables, athleisure, social awareness, style, hardware summer and hardware winter. interactiveSquash beat four other finalists to the title of the best fitness product for 2017 and will be showcased in Hall B5, booth BN 53, at the 2017 ISPO Munich.