Metabike and Metarun by Cardio Healthcare: Everything You Need to Know
BY: FG Team
28 December 2022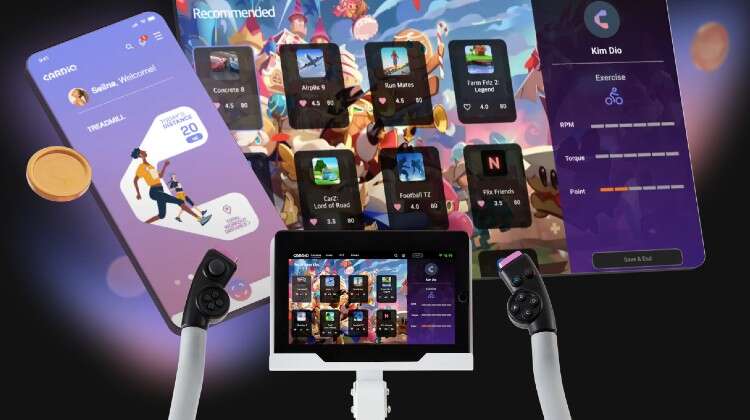 images: CARDIO HEALTHCARE
With the advancement of technology and the metaverse today, people are exercising less than before. However, Cardio's specific technology has come to help users connect their workouts on their fitness equipment to famous games, metaverse, fitness content, and more.
Based in South Korea, Cardio Healthcare is the only Move-to-Earn company that is cheat-proof and verifies only real fitness data. The company has taken its name from the word "cardiovascular," which takes up a huge proportion of healthcare costs and is the main target of preventive healthcare. 
Cardio Healthcare offers some great services and equipment to users in gyms, including Metabike, Metarun, Cardio Hub, Cardio App, and more. They even offer a crypto asset called Cardiocoin. 
Metabike: Connect Your Bike to Metaverse
According to Cardio Health, Metabike is the first metaverse and gaming-integrated exercise bike in the world. It is a home fitness device that can be connected to a tablet or smart TV via Bluetooth. Metabike allows you to earn points while you work out and play games simultaneously. 
This metaverse bike comes with built-in game controllers to help you gain full control of the game and your journey in the metaverse. Also, it is equipped with smart pedals to measure the speed, torque, and workout distance (more on these later).
Metabike can control the in-game avatar. It offers more than 50 world-class games and content that have been downloaded 1.4 billion times globally. As you ride the bike, it controls the speed of the avatar and the game controllers allow you to take control of the action. Cardio Health has promised to update the content monthly. 
By riding the Metabike, you can earn on your exercise gaming in the form of Cardio Points for your mileage. You can earn up to $20 per month in Cardio Points and swap your points for Cardiocoin, Cardio's ERC-20-based crypto asset, or use it for in-app purchases. 
Metabike is the only fitness bike with VR integration that provides you with immersive metaverse playtime while you simultaneously work out. You can use the VR headset while you are playing. Metabike is equipped with reward incentives, comes with a power sensor to deliver more accurate data, and offers many games and unlimited content. 
"People can exercise on Metabike while competing with global users in racing games, ride through scenic nature, watch their favorite shows on OTT platforms, and immerse themselves on leading metaverse platforms like Roblox, all while tracking their workout, receiving rewards for fitness, and having actual fun while exercising."

— Daniel Park, Founder & CEO at Cardio Health
Metarun: Run to the Future of Fitness
Metarun is Cardio Health's treadmill that rewards you during your run, just like Metabike. It allows you to earn up to $20 per month in the form of Cardio Points that is swappable for Cardiocoin. Similar to Metabike, Metarun also allows you to access the Cardio Hub in-workout to let you enjoy your run more than ever. 
Metarun will help you make your running session very fun. It allows you to use VR to watch your favorite Netflix show while you run or feel like you are running along beautiful coasts. Cardio Hub provides you with a large content library with various simulations, workout-integrated gaming, and OTT platforms to watch your favorite show while you are running. 
You can even attach Metarun to your own treadmills in your gym and enjoy the move-to-earn running exercise. You will be able to install IoT Sensors, offered by Cardio, on your treadmill to make it like Metarun fitness equipment. Similar to Metabike, you can take advantage of the Cardio App on Metarun too. 
Cardio App and Cardio Hub
Cardio App allows you to easily log in via a QR code and provides you with your workout in-game and see your fitness achievements on the Cardio Hub. With the Cardio App, you can connect your fitness to the Cardio Hub to see your progress, earn on your workouts, and more. 
The Cardio Hub platform is accessible on tablets and smart TVs. It can pair to Metabike and Metarun via Bluetooth and features over 50 games and content from different developers around the world with monthly content library updates. It is like "the Netflix of exercise," as Cardio puts it. 
Cardio Hub allows you to run through immersive landscapes from around the world with others, dive into the metaverse, or enjoy a quick race with a friend of yours. It enables you to play workout-connected games, attend a cycling class, explore the metaverse, or just watch your favorite shows. Cardio Hub helps you transform your playtime on Metabike and Metarun into workouts. 
Cardio Health Technology
Cardio's cutting-edge patented technology is compatible with virtually any indoor bike and treadmill. Their IoT Pedal and Sensors can be easily installed onto numerous fitness equipment at the ODM and assembly level as well as at point-of-use at home and gym. 
Indoor Bike IoT Pedal
Cardio allows you to attach their IoT Pedal to many fitness bikes via Bluetooth. This enables you to use Cardio Hub too. The pedal measures power (without the need for a torque sensor) accurately to deliver the most reliable exercise distance and fitness data. 
Indoor Bike Game Controller
You can attach indoor bike game controllers offered by Cardio to the left and right handlebars of your indoor bicycles. It gets connected to your bike via Bluetooth to provide you with a full gaming experience. What's more, it can pair with the IoT Bike Pedal for a complete exercise-gaming experience. 
Treadmill IoT Sensor
Cardio's IoT Treadmill Sensor can easily attach to any treadmill. It uses machine learning to detect your vibrations while you are working out with a cheat-proof approach. This IoT sensor has access to Cardio Hub and works like a real referee to make sure users are rewarded only for their actual exercise. 
Move-to-Earn in Metaverse
Cardio offers smart pedals and IoT sensors to turn any bike and treadmill into Metabike and Metarun. These pieces of equipment come with machine learning, vibration patterns, real exercise distance, and real power sensing to deliver the most accurate results about your workouts. Ultimately, the best part is that you can visually see your workout data on the Cardio App on your phone.  Cardio Healthcare's Metabike helps you exercise on a bike, while their Metarun allows you to exercise on a treadmill. You can earn points by exercising, which can be later changed into the Cardiocoin crypto asset or used for shopping.