Plunder Planet Uses Adaptive Motion Gaming to Optimize Fitness Training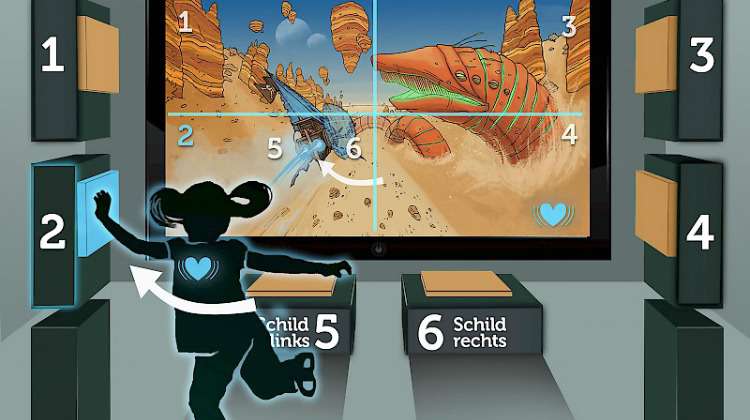 images: ZURICH UNIVERSITY OF THE ARTS, KOBOLDGAMES
Plunder Planet is a fitness gaming environment that uses adaptive motion games to personalize training and make it more appealing to children and young people.
Plunder Planet is a dynamically adaptive fitness game environment developed to immerse players in full-body motion games that challenge their coordination and cognitive skills. The platform uses a specially developed full-body motion controller or Kinect technology to provide haptic feedback during gameplay. The motion controller challenges players' coordination and spatial coordination, while the gesture-based Kinect allows them to move more freely while playing. The game itself puts the player into the world of a young pirate who discovers a long-dead planet and must steer his flying ship using the motion controller to hunt for buried treasure.
Plunder Planet was developed for children and young people, as a tool to provide a more motivating, science-based alternative to traditional exercise. It uses adaptive game mechanics aiming to further optimize game playing tasks for individual players based on their physical and emotional states. The project is based on the hypothesis that fitness training with an adaptive game has the potential to be more appealing and more effective than conventional fitness training.
The platform is used with a Polar heart rate monitor that tracks the players' heart rate and training level, making it possible to assess their physical and mental stress and adjust the game level based on the collected data for a more personalized training experience. The game essentially changes pace and difficulty level to optimize training, always keeping the player at the optimal training level, in the zone between mental stress and boredom and between too little and too much physical stress.
Plunder Planet will be used in the research of gamified physical exercise to determine the effect of specific game variants on the game experience, players' emotions, motivation and physical performance, and to see how the results of training with an adaptive game compare to the motivation as well as cognitive and physical benefits of traditional fitness programs.
Plunder Planet was developed by the sports scientist and game researcher Anna Lisa Martin-Niedecken (Senior Researcher & Project Lead, Subject Area in Game Design, Department of Design, Zurich University of the Arts) in collaboration with the Swiss game development company Koboldgames. Watch the video below to see how the platform works.
References:
Martin-Niedecken, A.L. & Götz, U. (2016). Design and Evaluation of a dynamically adaptive Fitness Game Environment for Children and Young Adolescents. In Proceedings of the ACM SIGCHI Annual Symposium on Computer-Human Interaction in Play (CHI PLAY '16), pp 205-212, ACM: New York, NY, USA. ISBN 978-1-4503-4458-6. DOI 10.1145/2968120.2987720.
Martin, A.L. & Kluckner, V.J. (2014). Player-centred Design Model for psychophysiological adaptive Exergame Fitness Training for Children. In Proceedings of the 4th Conference on Gaming and Playful Interaction in Healthcare, Schouten, B., Fedtke, S., Schijven, M., Vosmeer, M., Gekker, A. (Eds.), pp 105-109, Springer Fachmedien: Wiesbaden. ISBN 978-3-658-07140-0 (Print) 978-3-658-07141-7 (Online). DOI 10.1007/978-3-658-07141-7_14.