Shoot 360 Brings Interactive Technology to Basketball Training
BY: FG Team
27 January 2022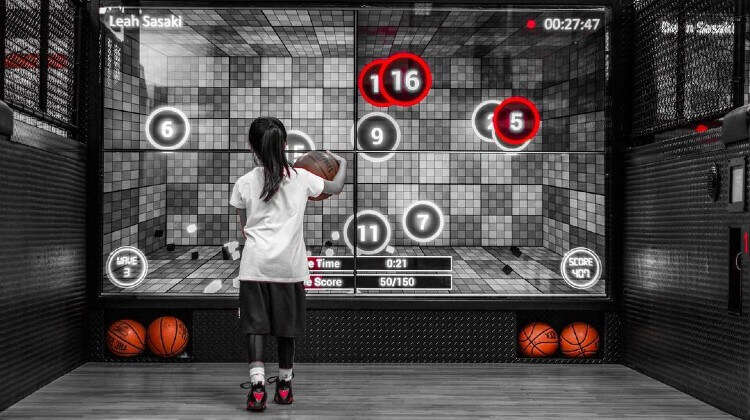 images: SHOOT 360
Experience state-of-the-art basketball training through interactive gaming stations that train specific basketball skills to young players and provide instant feedback.
Shoot 360 combines interactive technology skills stations in a video game-like environment with real coaching on basketball courts, which allows you to get the best of both worlds in your basketball training. Each station provides different skills to be trained; however, they all have large video screens protected by bulletproof glass, so you can throw balls as hard as required in your training. Machine vision cameras can watch your accuracy and speed, which are reported back through the screens, so you get instant feedback. Ball handling stations have over 200 drills you can select from the touchscreen panels and then report back on how well you did through each drill via reports the machine vision cameras send back. 
The Shoot 360 experience is geared towards younger players, generally 5th grade and through high school. However, anybody can benefit from using the interactive stations to practice their game. Facilities incorporating the Shoot 360 into their existing or new programs will see huge benefits in being able to help and coach more players. Instead of only working with small groups, you can cycle through automated coaching via Shoot 360 and live coaching. So while some groups of players are working with the Shoot 360 system, you've got other groups working with the on-site coaches.
Facilities with limited coaches or even no expert coaching available will be able to put their players through real expert coaching drills, which they can then practice further in scrimmages on the court. Players will see massive improvement by practicing specific drills, getting instant feedback, and then taking their new skills out onto the court. It's a safe and controlled environment to practice, and you're not fighting for feedback from your coach with 15 other players.
Shoot 360 focuses on improving core basketball skills that crossover into real gameplay. The programs take you through drills for shooting, passing, and ball-handling, fully interacting with the systems. For example, you shoot into a hoop, pass and hit targets on a screen with a real basketball, and follow an expert's ball-handling skills via another screen. All of your skills get instant feedback, and you can even participate in virtual competitions individually or as a team event. This isn't just locally, but you compete against the entire Shoot 360 group of facilities worldwide.
Craig Moody founded the company as a way to combine sport and technology so that anybody could have high-level training in basketball from professional coaches. Combining technology and video game playing features connects with a younger generation that expects technology in all areas of their lives. In addition, it provides access to high-level coaching to people that otherwise wouldn't have gotten the training. Shoot 360 offers franchise options to any facility or company that understands how much benefit the product and programs can contribute to the business and the users of the system at all facilities it's set up within. There are currently 12 Shoot 360 locations, with more on the way and franchises looking to expand internationally soon.

For a visual overview of the Shoot 360 product in action with real users, visit the video below.