SymGym Delivers Interactive, Game-Based Strength and Resistance Training
BY: FG Team
20 February 2017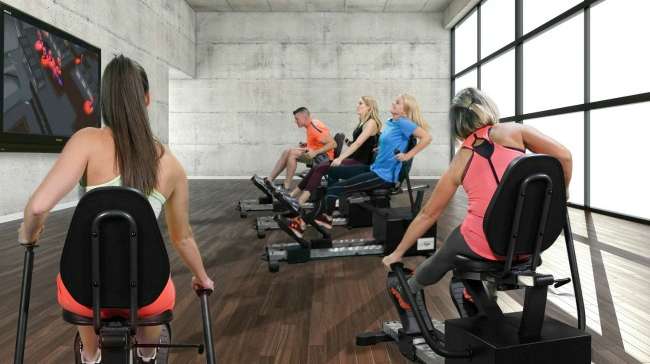 images: SYMGYM
SymGym is a resistance-based game controller that offers interactive, full-body workouts by using players' bodily movement to control actions in a video game.
SymGym is an innovative gaming platform that consists of a resistance-based exercise device, a video game controller, and proprietary software for game tracking and management. The exercise device looks like a combination of a rowing machine and a stepper, and it challenges players to engage the major muscle groups to play the games. Acting both as a game controller and a strength training device, SymGym uses two-way feedback – machine to game and game to machine – combining it with elements of online games and social networking to enable users to exercise through dynamic play. Developed for fitness clubs, recreation centres, YMCAs, colleges and park districts, the SymGym Studio solution motivates users to exercise by allowing them to play interactive games and compete with their friends.
The revolutionary resistance-based technology allows players to control the games using arm bars and foot pedals, while the games, in turn, control the device by changing the resistance based on game actions and level of difficulty. If, for instance, a player must push a virtual door to progress in the game, he must physically push the arm bars away as if he were performing the actual action of pushing a door. If it is a vault door, the player feels more resistance. Resistance is also increased whenever the player is going uphill or picking up heavy objects within the game.
The SymGym platform monitors a number of parameters during play, including difficulty level, resistance, power output, duration, and calories burned, to allow players to see the results of their workouts, as well as their progress over time.
The technology is best suited to simple classic games, such as Pac-Man or Asteroids, and to games specially designed for the platform.
SymGym Studio was developed by SymGym, an Illinois-based company specializing in developing gaming technologies that challenge players to engage in vigorous physical activity. The company's goal is to open SymGym Studios in a number of major cities, college towns, and other places with a considerable gamer population.
Watch the video below to see the platform in action.