TE3 Balance Exercise Stick Trains and Measures Balance
BY: FG Team
2 January 2017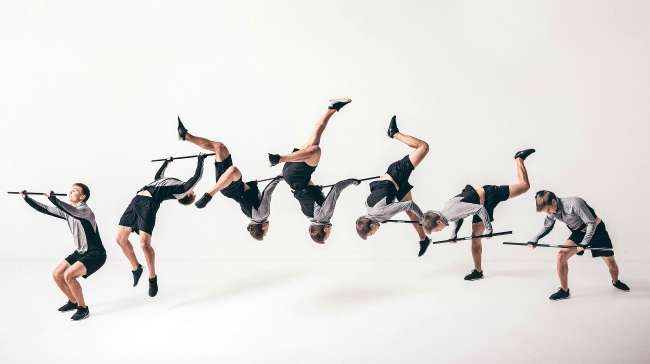 images: TE3
TE3 Balance is a unique solution created to improve users' balance and posture and address any symmetry issues caused by inactivity and sedentary lifestyles.
TE3 Balance, a smart balance training stick, is an innovative tool designed to bring users closer to symmetrical body balance even with only short daily training sessions. The device offers hundreds of different movements that users can implement in their training, including those seen in yoga, pilates, weight lifting, crossfit and stretching, as well as standard gym exercises like front raise, back extensions and upright row.
The device has a display with clear visual feedback and shows the number of imbalances and the maximum range of motion for each exercise. It uses two vibrating motors to alert users when one side of their body is lower than the other and to provide them with insight into how coordinated and balanced their training was. Meanwhile, the T3 app motivates users to keep challenging their personal limits, allowing them to learn different movements and work to get the top score at different levels of difficulty. The free app also allows users to compare their results with others and receive more customized exercises specifically suited for them. The device can be used by athletes, coaches and people who exercise recreationally. It comes in several editions: TE3 Move, TE3 Play and TE3 Pro.
TE3 Move offers users immediate feedback to give them insight into the correct ranges of motion and body control, making it easier for them to achieve their fitness goals. TE3 Play was developed to inspire children to exercise through active play. The exercises improve kids' motor functions which, in turn, leads to better results in different sports and activities.
Developed for professional athletes, coaches and health care professionals, TE3 Pro enables users to analyze different movements and exercises, gather and compare results, and track personal progress using the collected data. The accompanying app analyzes and shows a number of variables that affect performance, including speed, height, acceleration of movement and effectiveness of different exercises.
TE3 Balance was developed by the Finnish start-up TE3 Ltd, which specializes in creating innovative devices that train and measure body movement, balance and symmetry. The device can be pre-ordered through a Kickstarter campaign and is expected to reach the first users in May 2017.
Learn more about it from its creators in the video below.