Uptivo Offers Comprehensive Tracking Solution for Fitness Clubs
BY: FG Team
28 April 2017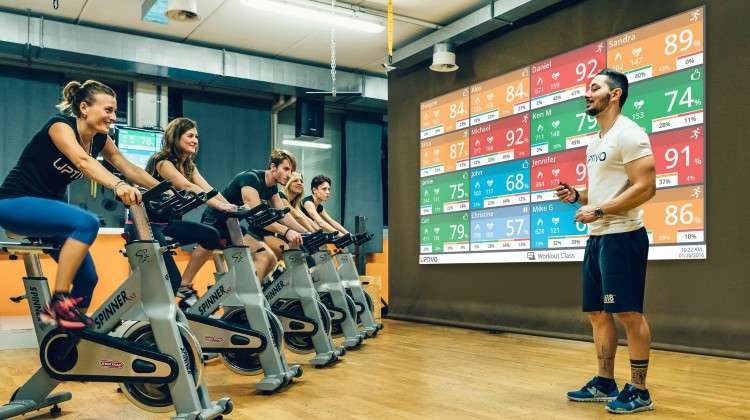 images: THINKERLY
Uptivo is a digital fitness platform designed to introduce accurate and engaging fitness tracking to individual and group training in fitness clubs.
Uptivo is a fully automated digital fitness platform developed to make personal training sessions and group workouts at fitness clubs more engaging and competitive. The platform integrates with Bluetooth Smart and ANT+ devices to offer real-time cardio frequency-based activity tracking to increase members' motivation and create a collaborative environment for their workouts.
Uptivo combines a range of solutions to help members reach their fitness goals while training at the club, at home or outdoors. The Uptivo Basic is a heart rate monitoring solution that uses an HDMI display to provide members with their workout stats in real time. The solution monitors both individual and group workouts at fitness clubs, allowing members to compare their efforts regardless of age and fitness level. The Uptivo Basic is simple to use and does not even require an Internet connection.
The Uptivo Cloud is a more advanced solution that enables trainers to target the workouts to members' individual fitness levels. The solution motivates members with medals and rankings and creates an active community, allowing users to share their goals and progress on social media.
The Uptivo Belt is a heart rate monitor that can be used with any club's standard cardio equipment, including elliptical machines, stationary bikes and treadmills, as well as in outdoor sessions. The belt offers accurate heart rate monitoring for individual and group workouts, and makes an excellent training partner in any kind of exercise.
The Uptivo Trainer app, available for iOS and Android devices, makes it easy for club operators to configure the entire Uptivo system and for instructors to set up training sessions for individuals or groups outdoors. The app provides members with all the relevant workout data, including heart rate, duration, speed, pace, distance, calories burned, and heart rate zone splits. It also creates reports after each session to allow trainers to review members' performance and compare individual results. The app also provides operators with an easy way to manage members, displaying an updated list of all members and allowing operators to synchronize each workout with members' accounts on Uptivo Cloud. Members and trainers can get detailed training data for each new session and use weekly and monthly reports to track their progress over time.
Uptivo products were developed by Thinkerly, an Italian company specializing in designing solutions that help fitness club operators and instructors make their facilities and programs more fun and motivational to members. Founded in 2015, the company develops products that use elements of entertainment and competition to improve members' performance and fitness level and to encourage members to foster a healthier, more energetic lifestyle.