VReeMotion Introduces Deeply Immersive Gameplay to Fitness Studios
BY: FG Team
30 August 2017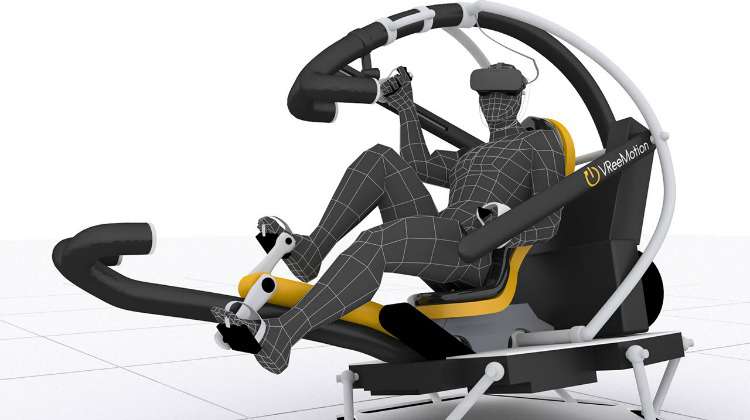 images: VREEMOTION
VReeMotion is a VR platform designed to bring deeply immersive gameplay to fitness studios.
VReeMotion is an innovative concept that uses virtual reality to transform users' workouts into highly immersive gameplay. Developed as a solution for a fitness studio franchise, the platform offers users an intense gaming experience to distract them from the effort that they are putting into their workouts. The concept is designed to engage users in virtual games where they can race, battle or explore new worlds and simultaneously experience every aspect of the game in the real world.
VReeMotion combines full motion simulation with high fidelity controls and a sweat management system to deliver a uniquely immersive experience and eliminate any motion sickness or nausea issues that are commonly experienced with many popular consumer headsets.
The platform goes beyond the typical VR experience to offer users a sense of real presence in virtual environments. It does not only translate players' actions in the real world to the game, but also allows players to see, hear and feel every detail of what they are doing in the game. The concept uses full motion simulation to enable players to feel the virtual world and everything that is happening in it.
The games that are being developed for the platform are visually impressive and compelling, offering detailed gameplay to fully engage players and drive them to a better performance. Racing games, for instance, will allow players to experience the gravity transitions and changes in load on the pedals during climbs and descents and feel the wind blowing across their face and body as they pick up speed. When they hit a rise, players will feel the sensation of being launched into the air, feel the pedals freewheeling and the steering becoming light before they start falling. Once they hit the ground again, they will feel the rear wheels hitting first and experience the challenge of fighting for control on the surface.
The VReeMotion concept was developed by VReeMotion LLC, a California-based start-up dedicated to developing technologies that make exercise addictive by enabling users to lose themselves in virtual worlds and get fit while playing highly compelling immersive games. The VReeMotion platform is still in development. Watch the video below to see the concept animation.