VROX Sports Simulators Deliver Immersive Indoor Kayaking, Sit-Ski and Bobsled Riding Experiences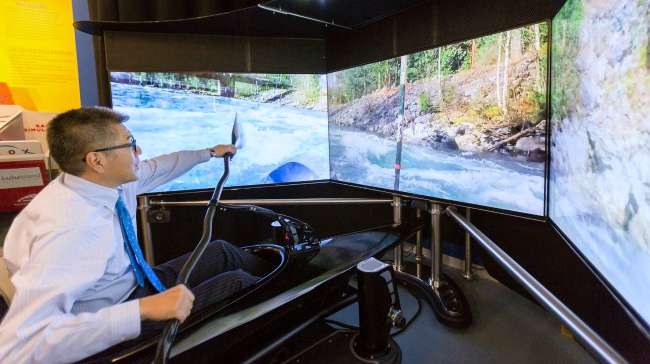 images: VROX SPORT SIMULATION
VROX sports simulators use sophisticated motion platforms and immersive graphics to provide users with a realistic experience of kayaking, sit-skiing and piloting a bobsled.
VROX sports simulators combine unique motion platforms with large immersive displays to deliver realistic physical sensations of the movement of the bobsled, kayak and sit-ski. The customizable simulators are designed to offer an exhalating interactive experience to users and are constantly being enhanced with more advanced and precise technologies such as better and larger display, clearer sound, larger frequency response scope and force feedback steering systems. The motion platform is powered by D-BOX motion actuators that generate accurate physical cues that are crucial to delivering authentic sports simulation experiences.
The Bobsleigh simulator puts the user into a custom-built bobsled shell, allowing him or her to experience the sport as a bobsled pilot or team member. The user's piloting skills determine the outcome of the race, while the bobsled shell makes the experience more realistic, providing the user with a considerable degree of comfort and ease of access. The Bobsleigh simulator is available with three different screen arrays, all of which deliver a highly immersive virtual environment.
The Whitewater Kayak simulator comes with a kayak shell, seat and paddle to provide the user with a high degree of realism and comfort. The seat on the motion platform is designed to provide support while the user is going down turbulent virtual rapids.
The Sit-Ski simulator offers a similarly immersive experience for the user. It is specially designed to be accessible to people with disabilities, with a sit-ski ramp that can be easily removed from the platform to allow access for wheelchairs. Like the Bobsleigh and the Whitewater Kayak, the Sit-Ski simulator comes with a choice of three screen arrays.
Based in Sidney, British Columbia, VROX Sport Simulation Ltd. Specializes in designing and manufacturing sport-specific interactive simulations and immersive experiences across major markets, applications and platforms. The company's sports simulators can be used both to improve professional athletes' performance and to offer an exciting and unique entertainment experience to the general public.
Learn more about VROX simulators in the video below.