Mrak Korak: Croatia's First Interactive Dance Club
BY: FG Team
20 September 2013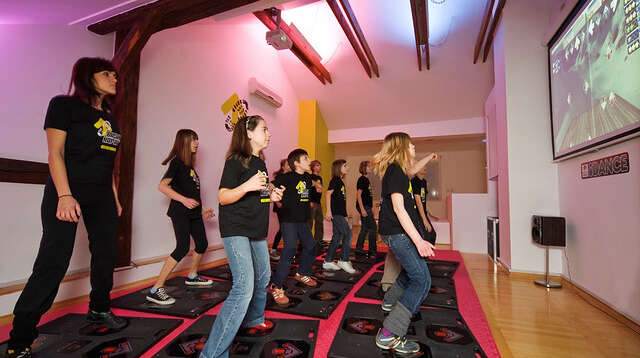 images: MRAK KORAK
Interactive dance is an increasingly popular way to get kids off the couch. Croatian machine dance club Mrak Korak is one of the interactive zones that have seen first hand why the activity is so successful with kids.
The interactive dance club Mrak Korak is Croatia's first exercise gaming facility that uses dance games to motivate children to be physically active and reap a wide range of benefits while dancing, competing with their friends, and having fun.
The club was launched to provide children with a healthy alternative to video games and other sedentary activities that have replaced outdoor games and exercise in recent decades. By combining a challenging physical activity with the excitement of computer games, social interaction, the element of competition, and the ability to build self-confidence through acquiring new skills, the club has provided kids with a fun, addictive extracurricular activity that also happens to be good for their physical development, social skills, self-esteem, and overall fitness level.
By using the iDANCE Multiplayer system to motivate children to get moving, the club offers kids a new direction in fitness and competition, one in tune with the global trends in active gaming, and does it in a way that kids find appealing and inspiring. With machine dance, kids are engaged in challenging fitness workouts without even realising it because they are completely immersed in the game and don't notice the physical effort required to play it.
The pilot stage of the machine dance project was launched in Zagreb in late 2009, and the club was officially opened in January 2010. Mrak Korak was originally conceived as an activity zone for primary school children, but eventually started developing programs designed for all age groups. Along with the Junior program, the club offers the Teen Fit and Body Fit programs. As their skills improve, club members progress to higher difficulty levels, and their results are always monitored by the club's staff. The licensed trainers at the club provide members with guidance, making sure that they are exercising at a level suitable to their age, interests, and fitness level.
The club has been given a positive review by the Croatian Ministry of Science, Education and Sports, confirming the benefits of interactive dance in motivating children to exercise regularly and having a positive effect on their health. The club's mission, ultimately, is to curb obesity, to inspire kids to be more active and adopt healthy habits.
Mrak Korak has taken part in a number of activities to bring interactive dance to the attention of the wider public. In the summer of 2010, the first iDANCE workshop was organised to educate and license trainers for the club. To get an iDANCE leader licence, they had to pass defined difficulty levels.
To expand the reach of interactive dance, the club also organises competitions and tournaments, as well as birthday parties on the weekends. The first Christmas tournament was organised in 2010 to grow the project further and confirm that interactive dance is an activity that can thrive in professional competitions as well as a form of entertainment. The club has also organised a workshop for children and adults as part of a children's hospital's initiative to promote physical activity for the World Pediatric Bone and Joint Day in 2012.
Mrak Korak has also teamed up with Dr. Lana Ruzic from the Faculty of Kinesiology at the University of Zagreb, who mentored a study to determine the physiological burden and children's level of satisfaction with the interactive dance program. The research included 21 club members who attended machine dance classes twice a week for at least a month. The results revealed that most of the training was equivalent to medium intensity aerobics, with an average heart rate of 147 bpm, an average maximum heart rate of 183 bpm, and calorie consumption of 229 kcal per hour. The study indicates that interactive dance meets the needs for play and physical activity, fosters the development of skills, and helps preserve and improve health without any risks.