Bertec's Dynamic CDP Introduces Immersive Virtual Reality to Balance Training
BY: FG Team
25 August 2016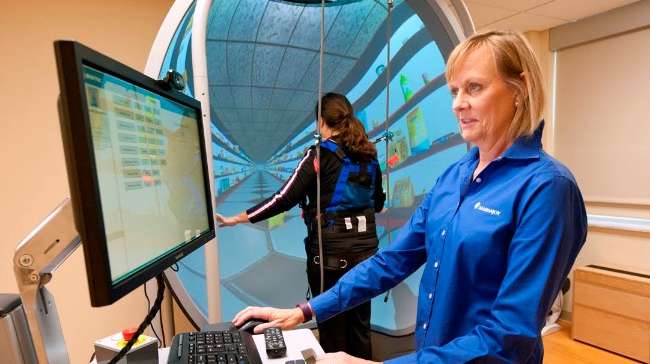 images: BERTEC CORPORATION, MARIANJOY REHABILITATION HOSPITAL
The Bertec Balance Advantage Dynamic CDP is a cutting edge virtual rehabilitation tool that combines immersive environments with highly sensitive dual force plates to deliver effective options for balance training and assessment.
The Dynamic CDP, one of the innovative solutions in the Bertec Balance Advantage product line, uses immersive virtual reality and a highly sensitive dynamic dual balance plate to simulate an engaging visual environment that improves patients' experience and leads to improved outcomes in rehabilitation. Available with the Bertec Balance Advantage software, the platform offers different training options for people who need to improve their balance. These include weight shifting, quick training, mobility, closed chain and seated training.
The Dynamic CDP system also allows therapists and clinicians to perform a range of tests to assess patients' motor control, sensory organization, adaptation, rhythmic weight shift, limits of stability, unilateral stance and weight bearing.
The platform is used at a number of healthcare facilities that treat different conditions. The Banner Concussion Center in Phoenix, Arizona uses it to address any problems with balance control resulting from concussion. The facility, which specializes in baseline concussion testing to identify any neurocognitive, fine motor, balance and visual integration issues, uses the Bertec Dynamic CDP system both to perform comprehensive assessment and for specialized rehabilitation. The platform provides objective data that allows the staff to isolate and quantify any sensory or motor problems related to balance and it delivers individualized therapy in an engaging virtual environment.
Like other Balance Advantage systems, the Dynamic CDP is available with several optional packages. The Functional package offers an expanded set of protocols for training and assessment using a Functional plate, while the Portable Essential package allows therapists to run their CDP system and half of the Functional system independently. The Portable Functional system is an excellent solution both for clinics and health fairs, as it offers the most flexibility.
Based in Columbus, Ohio, Bertec is an international leader in force measurement technology for biomechanics and also specializes in developing solutions for gait analysis, balance training and assessment, athletic performance, ergonomics and industrial applications.