MEDICA 2013: Report
BY: FG Team
25 November 2013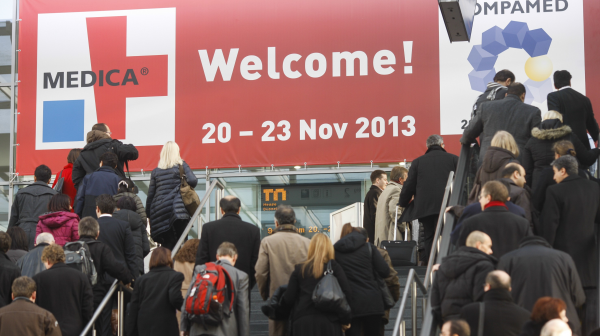 images: MEDICA.DE
MEDICA, the world's largest medical trade fair, was held from November 20 to 23, 2013 in Düsseldorf in Germany. More than a half of the attendees came from abroad.
MEDICA 2013, which ran from November 20 to 23 in Düsseldorf, received good reviews from trade visitors, who responded very positively to the redesigned conference program at this year's event. The world's largest medical trade show drew around 132,000 visitors from over 120 countries. More than a half of the visitors came from abroad.
Joachim Schäfer, managing director of the Messe Düsseldorf, said, "We have observed a growing number of visitors in recent years particularly from those emerging countries that are especially promising for the medical technology industry, namely from among Asian countries, from India, Russia as well as South America and China."
MEDICA 2013 hosted 4,641 exhibitors from 66 countries, who were there to present their latest products and technologies, and to form new alliances and make new international contacts. International ties are increasingly important in the medical equipment sector as only companies that are well positioned internationally can find a way to balance losses on individual markets with the profit they make on growing markets. This was the key takeaway from this year's MEDICA and COMPAMED, the trade show for the supplier market for medical technology manufacturing, which was held parallel to MEDICA, from November 20 to 22.
Market forecasts presented by Germany's leading industry associations, BVMed, SPECTARIS and ZVEI, revealed that medical technology in Germany generates close to 23 billion euros annually, but that 68 percent of the revenue comes from international business. Tobias Weiler, managing director of SPECTARIS, explained, "Not only is export quota high, foreign trade is almost the only factor driving growth. On the other hand, competition in the German market is tough, not least because of the many international players."
The new medical products and technologies featured at MEDICA 2013 ranged from electromedicine, physical therapy equipment and orthopaedic products to laboratory technology, medical technology, and health IT. The new devices included wireless, wearable applications for recording vital body data and real-time patient monitoring, mobile medical imaging systems, and anti-gravity treadmills, designed for rehabilitation training. This year's event featured a particularly high number of innovative medical imaging solutions, especially in the area of ultrasonics.
The new conference program included the MEDICA EDUCATION CONFERENCE, which offered workshops, presentations with prominent speakers, practical training with medical equipment and devices, and advanced training for general practitioners. The event was well received and had very good attendance. Other notable conferences at MEDICA 2013 included DiMiMED, the International Conference on Disaster and Military Medicine, and the MEDICA MEDICINE + SPORTS CONFERENCE, which focused on issues relevant to sports medicine. The MEDICA HEALTH IT FORUM focused on patient data transfer, security and privacy.
This year's COMPAMED hosted 681 exhibitors from 37 countries, setting a new record. The exhibitors showcased a wide range of medical technology and service solutions to some 17,000 visitors at the event.
The next MEDICA trade fair will be held from November 12 to 15, 2014 in Düsseldorf, and COMPAMED will run concurrently, from November 12 to 14, 2014.
Watch the video to see some of the innovations presented at this year's event.