Happy Rehab and Treax Pads Offer Unique Interactive Rehabilitation Programs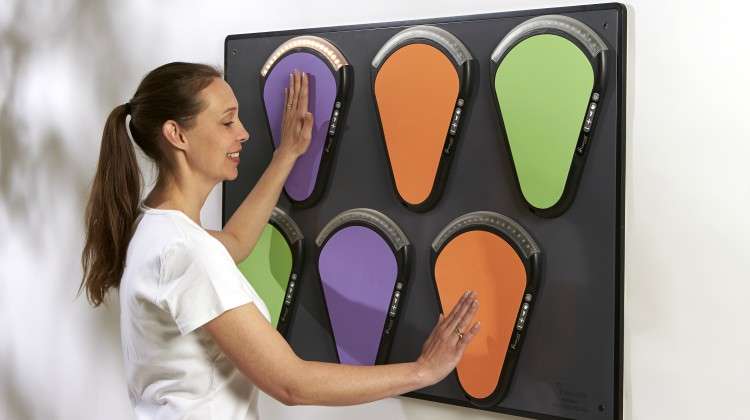 images: INNOVAID
INNOVAID's Happy Rehab and Treax Pads are innovative solutions that use interactive technology to deliver effective training and physical rehabilitation for a wide range of conditions.
HappyRehab and the Treax Pads are unique rehabilitation concepts developed by INNOVAID that combine interactive technology with the latest scientific insights to deliver highly engaging and effective programs for training and rehabilitation.
Happy Rehab is a training solution created primarily for children and young people with cerebral palsy. It is an interactive standing support platform that combines dynamic motor control with cognitive training to improve users' cognitive and gross motor skills. The dynamic stander can be used to treat a range of neurological conditions, including stroke and other acquired brain injuries, and it can also assist in rehabilitation of patients after surgery.
Happy Rehab can help increase users' active and passive range of motion and improve their balance, mobility and neuromuscular control through fun, motivating, goal-oriented training programs that offer feedback in the form of exercise statistics. The platform increases joint mobility through active stretching exercises delivered in the form of computer games that the user plays using foot pedals or knee supports. Happy Rehab is available in three sizes, for adults, youth and children. Therapists can use the companion MyTRAINER software to plan and create programs for individual patients.
The Treax Pads can be used in many different types of training, including cognitive and motor training, rehabilitation after an acquired brain injury, and training for seniors. The responsive pads come in three different colours and use random light signals that correspond to these colours to direct the user to navigate to a specific pad. The system offers users feedback to provide users with insight into their progress and improvement. Therapists can use it to create personalized exercises to train weight-bearing, balance and coordination.
The Treax Pads are available in different set sizes. Small sets can help train weight distribution and correct the user's posture. Medium sets make it possible to create a field of pads for twister-like games, while larger sets additionally challenge users' executive and planning skills and can be used for group exercise and social games.
INNOVAID is a Danish company that specializes in developing assistive technologies for rehabilitation and training. The company creates innovative products that improve users' quality of life and help them learn and develop different skills through varied and effective training programs. Watch the video below to learn more about Happy Rehab.