HUR iBalance Technology Gamifies Fall Prevention and Rehabilitation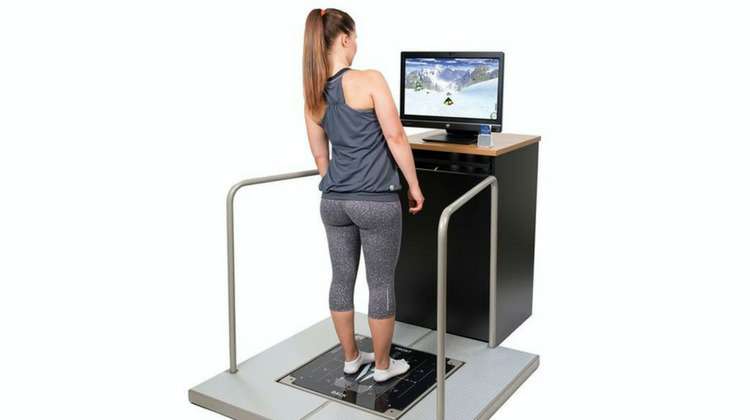 images: HUR
The HUR iBalance technology is an advanced balance training, testing and reporting system designed for use in senior wellness and fall prevention programs, as well as in orthopedic, vestibular and neurological rehabilitation.
The HUR iBalance system with SmartTouch technology is a cutting edge multipurpose tool for balance training and assessment that offers a versatile range of options for balance training, rehabilitation and fall prevention programs. The system features testing tools to identify directional weakness or a high risk of falling and delivers results-based programs that can be used in older adult wellness programs, as well as in neurological, orthopedic and vestibular rehabilitation.
iBalance has an intuitive, user-friendly interface with clear graphics and large buttons and it offers evidence-based testing protocols, comprehensive outcomes reporting, and a range of motivational interactive games to engage users in balance training programs. The assessment tool includes Limits of Stability and Romberg's testing protocols for a fast balance evaluation and offers graphic reports and normative data for comparison testing. The test results can be used to plan accurate training to address the discovered weaknesses and improve the user's balance.
The interactive exercises available with iBalance help improve users' range of motion, stabilization and weight shift through games designed to re-train their muscle memory, strengthen the core and stimulate their brain. The games use automated skill challenges and high-score record-keeping to engage users in their therapy and intervention programs and to keep them motivated. The reporting tools offer clear visual feedback and objective reports benchmarked against extensive normative data to provide users with understandable insights about their balance condition.
iBalance can be used in a variety of settings, including senior fitness centers, assisted living retirement communities, transitional care centres and rehabilitation facilities. The tools available with the system have a wide range of applications and can be used to train balance, strength, muscle tone, gait and range of motion. The platform was designed to improve user compliance and outcomes in rehabilitation and ultimately older adults' independence and quality of life.
HUR (Helsinki University Research) specializes in developing strength training equipment for the senior, inclusive wellness and rehabilitation markets. Established as a result of a research project at the University of Technology in Helsinki in 1989, the company collaborates with researchers and uses the latest scientific findings in developing products and software. HUR distributes its products in more than 30 countries and has established HUR labs to support its commitment to producing top quality solutions for measuring human performance and strength training for seniors. Watch the video below to see some of the games available with the iBalance training system.