Khymeia VRRS Offers Comprehensive Rehabilitation Options with Immersive Virtual Games
BY: FG Team
30 October 2017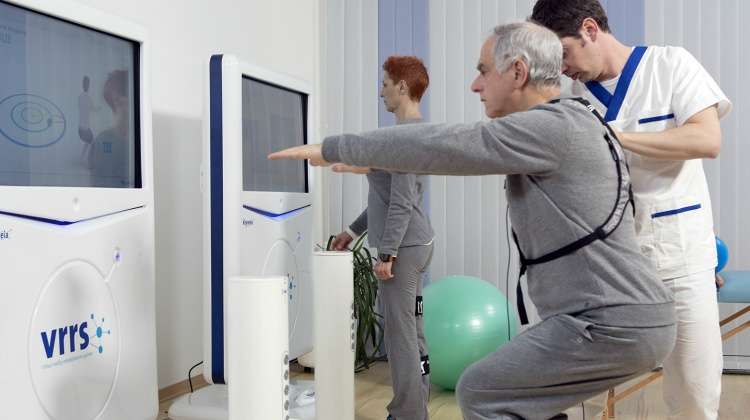 images: KHYMEIA
The Khymeia Virtual Reality Rehabilitation System (VRRS) is a comprehensive, clinically tested VR solution for the rehabilitation and telerehabilitation of neurological and orthopedic patients.
The Khymeia Virtual Reality Rehabilitation System (VRRS) is an advanced rehabilitation platform that facilitates the recovery process for patients with neurological and orthopedic injuries and conditions. The system combines virtual reality technology with a comprehensive range of rehabilitation and telerehabilitation functionalities to deliver a highly efficient, user-friendly platform with high customization capabilities, advanced automatic reporting and a variety of immersive virtual games. The games require patients to perform a series of therapeutic tasks and motivate them to keep interacting with the virtual environment.
The Khymeia VRRS is a Class I medical device, clinically used to treat a wide range of disorders. It contains numerous rehabilitation modules and an extensive library of clinically validated therapeutic exercises. The platform serves as a central hub to which clinicians can connect various specialized peripheral devices via USB, such as stabilometric and proprioceptive platforms, systems for cardiorespiratory rehabilitation, and virtual reality goggles. This allows therapists to use the system for a versatile range of rehabilitation activities, including exercises for motor and cognitive rehabilitation, balance, muscle synergies, and occupational therapy. The platform can be used to treat virtually any part of the body, including the hand, wrist, elbow, fingers, knee, pelvis, shoulder and back.
The system uses augmented feedback to enable physiological learning, providing patients with the specific information they need about each movement to be able to improve the quality of their performance. Each exercise comes with a preview that shows therapists and patients how the sensors should be positioned and the correct way to perform the exercise.
The VRRS TR (telerehabilitation) device offers the same functionalities as the central system, but is compact in size and can be used in regional clinics and rehabilitation facilities. The device automatically records all patient activities and stores them in the cloud, where the therapist can easily access them at any time.
Developed for telerehabilitation at home, the VRRS Tablet device offers exercises for motor and cognitive rehabilitation and speech therapy. The tablet does not require any additional accessories to deliver these exercises but, paired with related peripherals, it can offer all the functionalities that are available with the main platform. Like the VRRS TR, the VRRS Tablet records and stores all patient data.
The VRRS was developed by the Khymeia Group, an Italian company dedicated to creating, developing and implementing innovative, clinically tested technologies based on extensive research conducted at the Department of Cognitive Science at the Massachusetts Institute of Technology (MIT). Learn more about the company's background and see some of the possibilities available with the rehabilitation system in the video below.