Moto Tiles Validated for Cognitive Functional Improvement in New Study
BY: FG Team
8 December 2017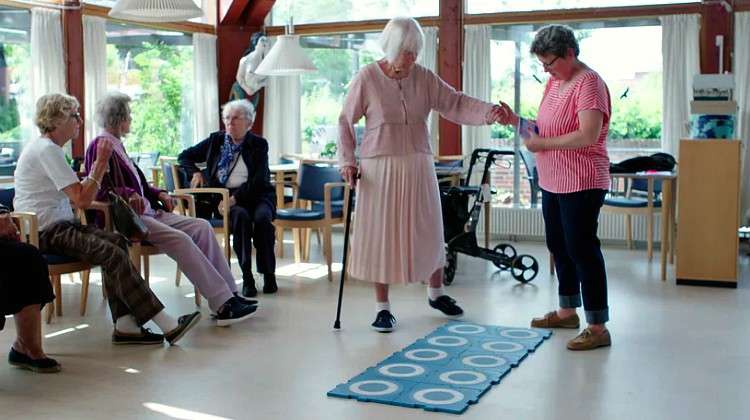 images: ENTERTAINMENT ROBOTICS, SENOH
Moto Tiles, the interactive robotic tiles developed by the Danish company Entertainment Robotics, have been validated for cognitive function improvement in a new evaluation.
Moto Tiles, a modular interactive gaming system developed by Entertainment Robotics, were validated for cognitive function improvement in a new evaluation conducted in cooperation with Hitachi, Ltd. Research and Development Group and Kodama Naoki, Professor at Niigata Medical Welfare University Faculty of Medical Technology. The researchers used Hitachi's wearable optical topography system HOT-1000 to measure the subjects' brain activity in the prefrontal cortex in order to compare the values before and after the workout, assess the brain activity change (change in blood volume) during the workout, and compare the scores.
Study participants were 22 healthy persons of both genders aged 62 to 80. For the evaluation, four Moto tiles were placed diagonally (forward right/left) and horizontally right/left to the subject, who was asked to step on the tile that lit up in a different colour from the rest for 60 seconds. The results showed that the participants who had a higher number of correct answers in the game also had a higher brain activity. Additionally, subjects had a higher percentage of correct answers in cognitive tests that were conducted after the exercise. These tests included a spatial working memory task that measured the subjects' cognitive capability and a colour-word matching task that assessed their decision-making capability. After reviewing the results of the evaluation, Hitachi High-Technologies decided to grant the tiles the Brain Science Mark.
"This is very important evidence of the effect of playing with the Moto Tiles", says the developer of the Moto Tiles system, professor Henrik Hautop Lund, Technical University of Denmark, "since there is now both evidence of an effect on the brain and the body. Indeed, recently NHK termed this the new anti-aging method for the body and the brain." Furthermore, Professor Lund says that "such evidence of effect is important, so that anybody can be sure that the fun play on the Moto Tiles has a high effect. Unfortunately, not all products have such evidence of effect, so people should be careful to look for playful products with proven clinical effects."
Hitachi cooperated in the study as part of its efforts to promote the application of insights from brain science in the development of various products. The HOT-1000 and other brain science solutions are now in further development at Hitachi's Japanese spin-off company NeU.
The ratio of aging population has increased dramatically in Japan in recent years and, with it, the need to train both physical and cognitive skills in older adults in order to extend their healthy life expectancy. Products like the Moto Tiles can be of enormous assistance in this respect, as they not only deliver measurable improvement, but also accomplish results in a relatively short amount of time by motivating seniors to participate in what is essentially a fun, playful activity.
Effective functional and cognitive training
The Moto Tiles provide an alternative form of physical rehabilitation exercise that engages seniors in exciting and highly motivating games and has a remarkable effect on their functional ability and cognitive performance. What distinguishes the tiles from similar products is the very strong evidence obtained from clinical trials that indicates significant physical and cognitive benefits, even after training for only short periods of time.
The Moto Tiles use embedded sensors and LED lights to deliver a varied range of exercises and games that challenge players to step on tiles that light up to turn off the lights or to produce sounds. The tiles can be arranged in different shapes and placed further apart to increase the level of difficulty. The games available via the Moto app offer a lot of variety, from speed, balance and brain training games to memory and sound games. The basic package includes 15 games and there are more than 35 in total developed for the platform. The system is easy to set up, use and transport. It provides automatic documentation of effect, allowing users to see the progress they have made on their tablet.
Clinical study results
The studies conducted with the tiles in recent years showed a 66% improvement in balancing after 2 to 3 hours of play, an 80% improvement in a balancing test of frail elderly persons after only 1 hour of play, a 100% improvement in leg strength after 2 hours of play, and statistically significant improvement in mobility, agility and endurance tests after training with the tiles. All these functions are critical to maintaining older adults' independence and quality of life.
The Moto Tiles have CE, FCC, ASTM and Japan Radio Law certifications and are currently in daily use in a number of rehabilitation centers, physical therapy units, hospitals, day care centers, nursing homes and senior activity centers. They are used in balance training and fall prevention programs for the elderly as well as to improve functional ability, reaction time, memory, cognitive function, strength, agility and overall fitness in people of all ages and abilities.
In Japan, Moto Tiles are distributed by Senoh, a company in the Mizuno Group. Watch the video below to learn more about the system and the benefits of using it.