Robot Tiles Help Seniors Improve Balance Through Active Games
BY: FG Team
28 December 2015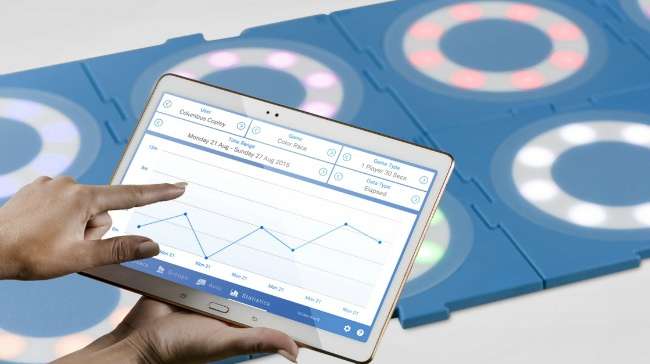 images: ENTERTAINMENT ROBOTICS; HENNING LARSEN ARCHITECTS; TECHNICAL UNIVERSITY OF DENMARK
Moto Tiles, interactive robotic tiles developed by Entertainment Robotics, help seniors improve their balance and reduce the risk of falls.
Moto Tiles are robotic tiles that use interactive lights to guide users through different types of games that improve balance, stability, agility, endurance, and overall mobility in the elderly, ultimately reducing the risk of falls. Developed by the Danish company Entertainment Robotics, the interactive tiles are linked together like pieces of a jigsaw puzzle to form a 'hopscotch' square and they challenge players to jump from one colour to the next to score points.
The games available with the robot tiles require players to stretch, respond quickly to stimuli and memorize different elements. They have different levels and speeds, ranging from easy to physically challenging, and some of the games are more mentally than physically demanding.
The Moto Tiles are currently used in fall prevention programs at senior care facilities across Denmark. Partipants in one of the pilot projects who exercised on the tiles once a week for three months saw significant improvements in their balance, but also in strength, agility and endurance. They reported that training on the tiles was fun and not like physical exercise at all.
The playful quality of the exercises, with different coloured tiles lighting up and players seeing how many points they have scored, motivates players to keep improving with each game. At the same time, the technology allows the staff to document their progress. The staff at the care facilities participating in the pilot programs reported that seniors became more mobile and were able to do more after the three-month program, including walking long distances, walking without an aid, and performing the exercises without a stick.
The games also improved the participants' mental health as they allowed them to have fun together and form a stronger bond. During the pilot program, the participants kept encouraging each other to improve, which helped them build a stronger sense of community.
In the first stage of the pilot programs, the robot tiles will be used in prevention programs organized by day care centres for seniors who live in their own homes, as well as in therapy and rehabilitation programs for seniors recovering from a fall or different conditions.
Entertainment Robotics is a spin-off company of the Center for Playware at the Technical University of Denmark (DTU). The company developed the Moto Tiles in collaboration with Henning Larsen Architects, an international architecture company, also based in Denmark.