Thera Trainers Help Wheelchair Users Reap the Benefits of Exercise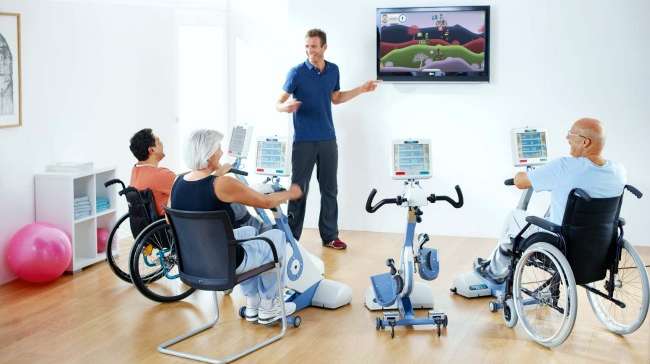 images: MEDICA MEDIZINTECHNIK
Thera Trainers enable people with specific needs to get the benefits of motor-assisted, motor-operated or active movement training using a single device, all from the comfort of their armchair or wheelchair.
Thera Trainers are personal training devices developed to help people with specific needs exercise and maintain their health in the comfort of their home. Developed by medica Medizintechnik, the trainers come in three product lines – cycling, standing & balancing and gait – and offer a wide range of solutions and additional equipment to help users achieve different training objectives. In addition to helping people maintain mobility, stimulate bodily functions and increase endurance, the trainers are designed to improve posture and coordination, exercise muscular strength, improve cognitive abilities and even alleviate pain.
Thera Trainers veho and tigo belong to the cycling line of products and offer similar benefits to those that bike trainers and ergometers offer healthy people. The trainers use biofeedback, both for individual and group therapy, helping users become aware of different physical processes in their body. They also offer users intuitive control of their training sessions, allowing them to easily adjust different training parameters on the screen.
Thera Trainer tigo is a multifunctional device developed to train both the legs and the upper body, either at home or in medical facilities. It allows users to exercise with or without motorized assistance while sitting in their chair or wheelchair. The trainer is available in different models and comes with extensive software and accessories.
Thera Trainer veho was developed specifically for upper body training. It trains the arms, shoulder girdle and back, helping users improve mobility with a series of special movements. Depending on their ability and training goals, users can exercise either with or without motorized assistance. Based in Hochdorf, Germany, medica Medizintechnik has more than 25 years of experience in developing professional therapy solutions for neurological and geriatric rehabilitation, and offers innovative, safe, customer-focused products for every stage of rehabilitation.
The company has recently announced the release of the new THERA-soft® SB basic therapy software for Standing and Balancing that will support therapists in their work and help patients reach their therapy goals faster. Watch the video to learn about some of its features and advantages.