ZeroG® Gait and Balance System Offers Dynamic Fall Recovery with Robotic Body-Weight Support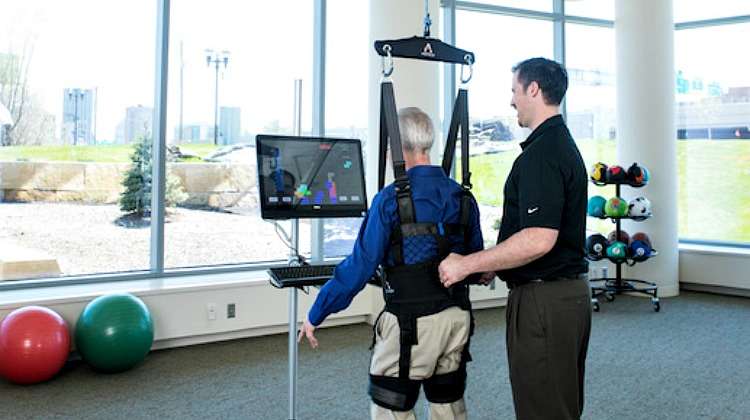 images: ARETECH
The ZeroG® Gait and Balance System is a platform that allows patients to engage in a variety of physical therapy activities in the early phase after injury.
The ZeroG® Gait and Balance System, an advanced platform that engages patients in a diverse range of rehabilitation exercises early after their injuries, offers dynamic body-weight support as patients perform walking, sit-to-stand, balance and other exercises. The platform provides patients with a safe, controlled environment for their rehabilitation and protects them from falls. The system has been used since 2008 without a single reported adverse event.
The ZeroG® has advanced fall protection features, allowing users to set an allowable range of movement and protecting patients when they descend too fast. The platform uses target-matching modules to offer patients biofeedback in real time and challenge their postural control and dynamic stability. It was not developed for any single condition in particular, but as a tool to help therapists treat patients with a wide range of diagnoses, including spinal cord injury, traumatic brain injury, stroke, cerebral palsy, multiple sclerosis and orthopedic injuries. The platform can also be used to train a number of functional activities such as walking, climbing stairs and balance tasks.
The software that comes with the ZeroG® features a range of interactive games that challenge the patient's cognitive skills and make therapy more engaging. At the same time, the performance data from each therapy session is stored into a database and can be accessed by therapists to plan further treatment. The ZeroG® can be operated using a touchscreen or wireless remote. The interface design is very user-friendly, as each interface was designed to address various points raised by therapists.
The ZeroG® Gait and Balance System was developed by Aretech, a leading provider of advanced, evidence-based rehabilitation technologies that help patients regain lost function and keep their independence. Based in Ashburn, Virginia, the company is the world leader in robotic body-weight support systems. Aretech products have been used in research and rehabilitation centres around the world since 2008.
Aretech launched the latest version of the ZeroG® in February 2017. The new system is the most sophisticated solution for robotic body-weight support, with more versatility, new features and a better overall performance than its predecessor. The platform uses the WaveLink WiFi Guardian, which makes it the first and only wireless solution of its kind that does not depend on Wi-Fi connectivity alone. ActiveAssist, the new dynamic fall recovery feature, offers patients an even more comfortable experience, as it intelligently adapts the body-weight support to the user. Watch the video below to see a demonstration.