Blue Goji Launches Beta Program for GojiCare Managed Service
BY: FG Team
17 January 2018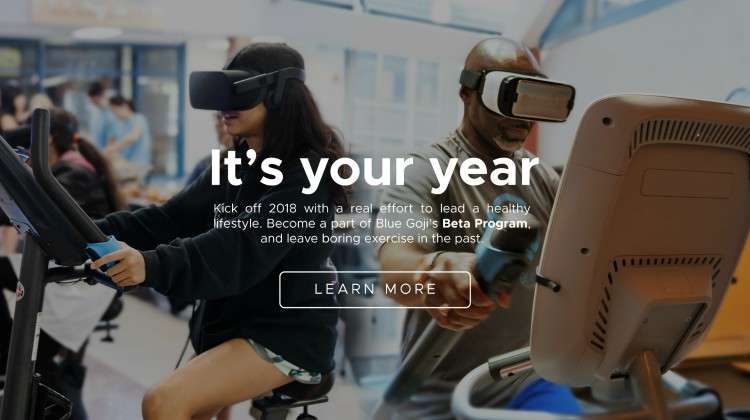 images: BLUE GOJI
Blue Goji is launching a Beta Program for the innovative GojiCare community care platform.
Blue Goji is launching the GojiCare managed service, a pioneering preventive community care platform that uses active gaming to engage users in exercise, in a limited release later this month. The platform combines cardio workouts with mindful gameplay to offer a broad range of health applications. These include managing a range of common chronic conditions, active learning for underserved children, active aging for seniors and general active physical play for anyone looking for a fun way to integrate physical activity into their daily routine.
GojiCare was developed to introduce active gaming into a variety of different environments, including physical and mental therapy clinics, hospitals and schools. It uses 2D and virtual reality gaming to offer an immersive alternative to traditional exercise and motivate users to stay active and competitive. The platform utilizes a number of existing Blue Goji technologies, including Goji Play game controllers, the GojiVerse gamified wellness platform, the GojiGo app and the GojiTate guided meditation app, to help users improve their health and wellbeing. To engage users in a continuing exercise regimen, GojiCare also provides them with incentive rewards and networked community support.
The GojiCare Beta Program will run for 12 weeks. Raffles will be held each week to keep the users engaged, with $50 Amazon gift cards given to weekly winners. Users will be able to receive up to two raffle tickets per day, with one raffle ticket earned for each 15 minute period of use.
The early launch of GojiCare will provide Blue Goji with insights into the positive effects the games may have on users' daily routines and their motivation to keep playing on their own time. The company will also learn if people enjoy playing the games and if they are able to use them without much technical support. Additionally, the beta launch will give the company a better idea of how the platform will work in a larger setting and the changes that need to be made before a full release. For the duration of the program, the participants will be asked for feedback regarding their continued use of Blue Goji technologies, the amount of time spent exercising, and their desire to exercise.
To join the program, users must have access to an elliptical or stationary bike and an iPad or Android tablet. They must also own or have serious intent to purchase one of the two supported headsets, the HTC Vive or Oculus Rift. Everyone who joins the program will receive a set of Goji Play 2 controllers.
Those interested in joining the GojiCare Beta Program, who feel that they would be a good fit, can send an enquiry via the                   Blue Goji profile page.