GEN i1 Smart Golf Ball Helps Golfers Master Putting
BY: FG Team
29 September 2017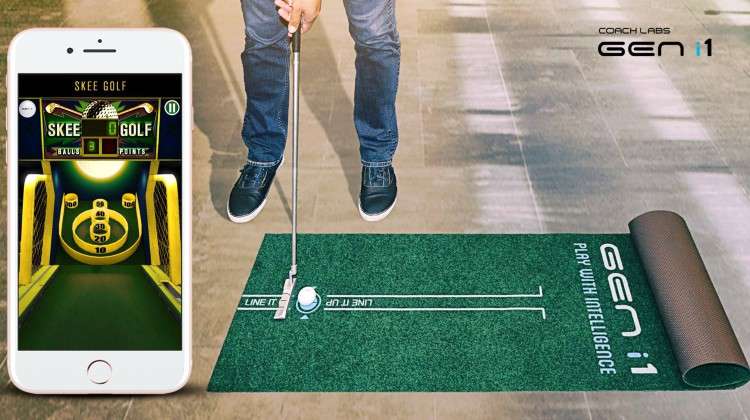 images: COACH LABS
GEN i1, the world's first smart golf ball, uses sensors and an app to help golfers perfect their short game.
GEN i1, a smart golf ball developed to enhance precision training, works with a companion app that offers a range of interactive games and drills designed to improve golfers' short game. The innovative training system consists of a golf ball with an embedded sensor, a putter sensor and a charging cable. It is used with a free Android or iOS app to offer golfers a fun new way to practice their shots and to provide them with accurate training data which is instantly sent to their smartphone. The drills available with GEN i1 include long and short distance putting, putting straight, and exercises that challenge the golfer's speed by simulating flat land, uphill and downhill.
Suitable for professionals and beginners alike, the world's first smart putting ball connects to the GEN i1 app to track speed, initial direction, ball rotation and impact force. The sensors deliver the data about the direction and distance of each shot to the golfer's phone in real time. By seeing this data, golfers can immediately fix their putting and get better at advancing the ball closer to the hole. The data on initial direction shows them if they are truly on target and how far off-line or on-line the ball rolls after impact. The data on speed helps them control their power and gain consistency with each putt, while the impact force metrics help them master their force. The putter sensor collects the data on face angle, tempo, back stroke and forward stroke, which also helps golfers master perfect initial direction and achieve consistent ball speed on every strike.
GEN i1 is a portable system and can be used anywhere to allow golfers to analyze their shots while practicing. All it requires is a Bluetooth 4.0 connection. The system can be used on a golf course, green or indoors. An indoor putting mat is available to golfers looking to work on their game regardless of weather conditions.
GEN i1 was developed by Coach Labs, a California-based company focused on creating interactive solutions that use highly accurate integrated technology to improve users' performance. The company's solutions use gaming and simulation to deliver effective training and a fun user experience.
GEN i1 can be ordered on Indiegogo.