Lumo Play Turns Children's Rooms into Interactive Playgrounds
BY: FG Team
30 October 2015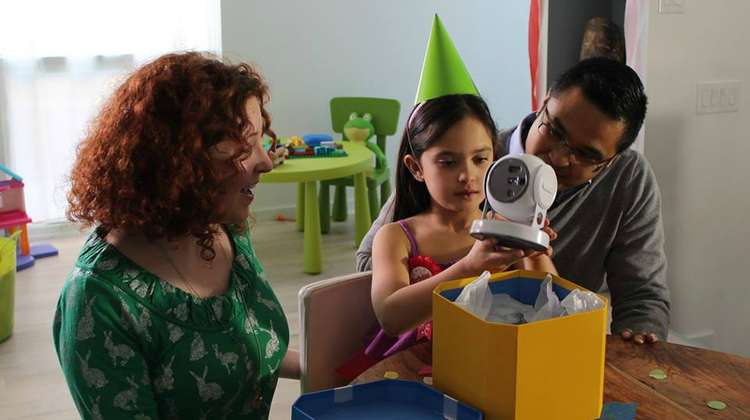 images: LUMO PLAY, LUMO FACEBOOK
Lumo Play is a motion reactive smart projector that can transform any room into an interactive playground.
Lumo Play is an interactive projector toy for kids that can turn any room into an exciting interactive playground. Lumo projects games and effects on floors or walls and allows kids to interact with the projected content using their whole bodies. It is a ceiling mounted fixture that uses an interactive LED projector, a processor, and a motion sensor to transform the physical environment and light up any floor with a variety of games and other digital content.
Lumo Play uses PO-Motion interactive projection software to project video content on floors or walls. Once the system is set up, children can play and learn through different games. Lumo doesn't only track children, but also physical artifacts, allowing kids to bring their favourite toys into the game. Along with turning children's rooms into exciting interactive play areas, the projector also aims to expand children's imagination. It provides kids with easy online tools that enable them to create their own games and effects.
The interactive projector combines several elements that have become increasingly popular in recent years: digital content, physical games, and interactivity. Lumo brings both an addictive, physically engaging experience and a game creation platform right into the home. Additionally, the projector is not as disposable as most toys because digital content is easy to update to keep the experience fresh and exciting for kids.
Lumo Play interactive floor and wall projector was developed by Lumoplay Corp., a subsidiary of PO-MO Inc. Based in Winnipeg, Canada, Lumoplay specialises in providing an interactive projection software platform for education, events and advertising. The company's interactive projection solutions have been used by a number of global brands, including Samsung, Coca Cola and Adidas. Lumo Play was developed in collaboration with Highway1, a San Francisco-based hardware startup accelerator.
To learn more about the projector, watch the video.