MOVOBall Motion Cradle Uses Smartphone Motion Games to Get Users Fit
BY: FG Team
20 November 2015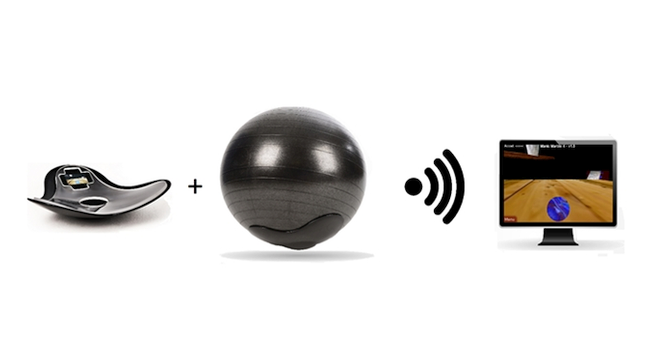 images: MOVONIX
MOVOBall, a motion-sensitive cradle developed by Movonix, is an innovative fitness product that lets users work out on the Swiss ball while playing smartphone games.
MOVOBall is a revolutionary new fitness product that turns the user's Swiss ball into an interactive fitness device, allowing him or her to work out while playing smartphone games or interacting with a TV screen. The innovative technology enables the Swiss ball to sit on the MOVOBall motion cradle and connect with the user's TV, smartphone or Bluetooth device for a variety of workout or rehabilitation options. The MOVOBall lets users exercise either on their own or with friends or family.
The motion cradle platform opens an entire world of possibilities for users, giving them access to an endless selection of games, therapy programs, and fitness tests. As the users exercise, the device tracks their every movement and uses their smartphone or tablet to send the data to their dedicated hub. The interactive games and performance data collected by the MOVOBall enable users to track their progress, compete with other users, and improve their physical performance and fitness level. The device can be used both at home and at the gym.
To play games and get a good workout, MOVOBall users must move the device using their body weight, core and leg muscles. Their movements affect what is shown on the screen of their choice, while the games themselves challenge them to find a smarter way to score points.
Once connected to the user's TV, the motion cradle mirrors the user's movement, while the smartphone app offers feedback, motivation, the ability to track workout intensity, monitor daily or weekly performance, and compare stats against other users in an online community.
The MOVOBall also allows users to receive reminders to get them moving and, to provide them with even more data, the device seamlessly connects to a range of sensors, including heart rate monitors. The motion cradle can house any standard-sized gym ball, allowing users to move with the game, immerse themselves in it, and experience an entire range of old classic games like never before. Users can also play any of the specially designed MOVOGames that help them develop and enhance their fitness.
The MOVOBall was developed by Movonix, a company specialising in creating innovative products that challenge the conventional approach to exercise by making it more fun and empowering users to reach their personal fitness goals.