Nautilus Modern Movement Products Enhance Strength Training with Games
BY: FG Team
11 September 2017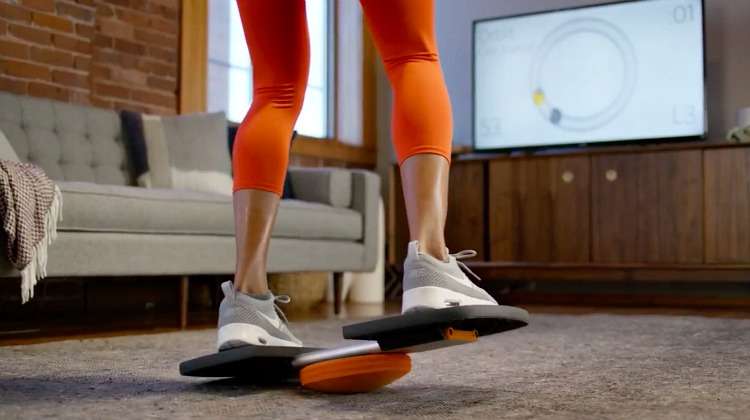 images: MODERN MOVEMENT, NAUTILUS
Nautilus' Modern Movement product line combines live gaming with strength, balance and agility workouts to deliver an innovative and highly engaging way to train.
Nautilus' Modern Movement line of home fitness equipment will introduce a live gaming experience for users looking to improve their core strength, agility and balance when it hits the market later this year. The product line consists of the M-Pad Balance Trainer, Edge-Board Extension Trainer and M-Straps Bodyweight Trainer.
Developed to keep users motivated and engaged during their workouts, the Modern Movement products allow them to track their improvement in agility and balance over time. They come with a digital trainer with a free M-Trac app to help maximize users' workouts. The products are designed to enhance the performance of users of all levels and are well suited for anyone, from fitness newcomers to professional athletes.
The M-Pad Balance Trainer actively engages the core muscles by using a wider range of motion than a regular balance board. The trainer replicates real life movements by moving in more directions than just side-to-side and front-to-back, offering a more efficient method for improving balance. Developed to deliver intense training, the M-Pad allows users to customize their workouts and it comes with attachable rubber bands that provide an extra challenge. The trainer's ability to measure the user's balance will make the companion app an interesting tool for trainers and physical therapists, as the app allows users to measure their progress.
The Edge-Board Extension Trainer is a core strength trainer that consists of a rocking deck that creates instability while the user performs a series of difficult movements that challenge the stabilizing muscles and core. The M-Trac app makes it easy for users to customize their workouts by selecting the length, difficulty level and the parts of the body that they want to train. The app then guides users through their workouts while simultaneously logging the number of reps and range of motion data.
The M-Straps Bodyweight Trainer gives users a full-body workout using only their body weight. It combines a number of features to allow for a broader range of motion, to make it easier for the user to adapt between exercises, and to build strength.
The M-Trac fitness and balance training app, which works with the M-Pad and Edge-Board, uses the sensors in the user's smartphone to measure his or her balance ability. To start training, users can simply select the product, set one of the three modes – play, train or measure – and adjust the level of difficulty.
Nautilus' Modern Movement products will be available internationally later this year. Watch the teaser below to see the range of exercises that users can do with the M-Pad and Edge-Board.