Tgoma Technology Brings Interactive Games to Trampolines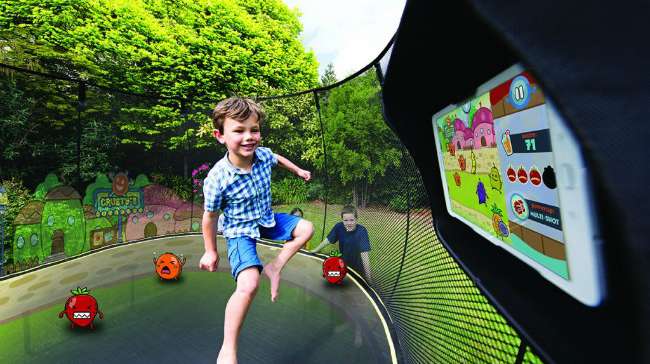 images: SPRINGFREE TRAMPOLINE
Tgoma system was developed to turn trampolines into interactive gaming systems.
Tgoma is a new interactive gaming accessory designed to keep children and adults alike engaged in active outdoor play for extended periods of time. Developed for trampolines, the system uses sensor technology and an algorithm that tracks players' movements to deliver seven interactive games that introduce new levels of excitement to the popular children's activity. Tgoma tracks parameters including speed and time between jumps to gamify different exercises on the trampoline. Users can simply place their tablets into the screen slot and download the accompanying free Android or iOS app to start jumping to the games.
The interactive games available with tgoma exercise both users' bodies and minds and range from high-energy challenges and fitness training to educational games. Math Hopper, for instance, offers a fun way for kids to learn mathematics, while Stickers encourages them to jump to create different shapes and sounds. 2048 was developed to test players both physically and mentally by challenging them to keep jumping and combining tiles, while Fruitant requires them to overcome different challenges, and Alien Stomp lets them create their own games.
Tgoma also allows users to access tgomaFit, an interactive exercise platform that lets them select different types of jumping exercises and workouts, and shows their jumping stats and energy burned. Users can also tap into tgomaFit to set new challenges and goals for themselves and to compare their stats to those of their friends and family.
Launched by Springfree Trampolines founder Steve Holmes' new company, tgoma is sold both as a separate accessory and as part of the new models of trampolines, including the company's best-selling Jumbo Square Trampoline. The company's goal in developing the system was to motivate both children and adults to exercise and spend more time outdoors. "Our goal is to shift kids' behavior from indoor sedentary play to outdoor active play," said Holmes in a statement. "Instead of fighting technology, it's about leveraging it to transform 'screen time' from an isolating, sedentary activity to a healthful, engaging experience for the entire family."
Watch the video below to discover some of the gaming options available with tgoma.