Vescape Launches New Interactive Indoor Cycling App
BY: FG Team
21 December 2015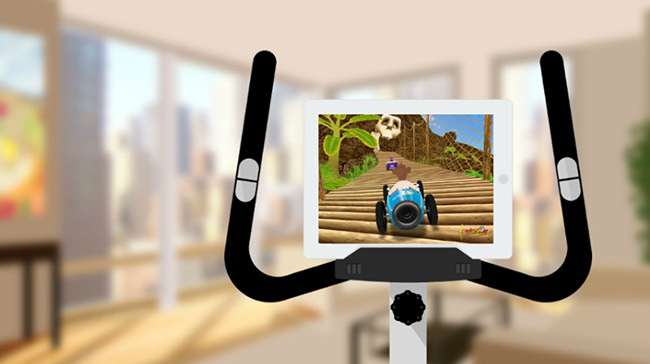 images: VESCAPE
The German startup Vescape has released a new interactive cycling app for indoor stationary bikes.
Vescape, a Berlin-based startup specializing in video games and mobile applications for the fitness and health markets, has launched its first interactive gaming app for indoor exercise bikes. Designed to make workouts more entertaining, the new app uses video games to add more fun and variety to indoor cycling while also challenging users to reach new levels of fitness. The interactive games make pedalling more engaging, keeping users more focused and motivated with challenges and competitions during their cardio sessions.
The Vescape Fitness App connects users' stationary bikes or cross trainers to their smartphones or tablets via Bluetooth and delivers various workout routines, interactive games and performance stats that provide users with insight into their progress. The games available with the app respond to the bike's speed and resistance, adding obstacles to make pedalling more difficult, and users' progress in the games depends on their cycling pace. Users are challenged to keep pedalling to move their character in the game and overcome the obstacles in their path to reach new levels.
Greedy Rabbit, the first game available with the application, delivers an addictive race as a pink rabbit tries to catch a carrot and outrun monsters in a maze. The rabbit is pursued by foxes, hedgehogs, frogs and other creatures and its life depends on the player's cycling pace. To make the game even more challenging, the rabbit's escape is made more difficult by polka dot mushrooms that increase resistance on the bike. The game has multiple difficulty levels that motivate players to keep progressing and rewards them based on their performance.  
"With our gaming app we want to give the home exercise bike work out a second chance," said Jerome Feys, Vescape Co-Founder and CEO. "Our goal is to promote a healthier and more active lifestyle by teaming up fitness with games."
The Vescape Fitness App is available for Android devices on Google Play. The iOS version will be released in January 2016. Users will get a free 14-day trial to test the app, which will later be available to them for £3.99 per month. The app is compatible with all the latest Bluetooth-enabled home exercise bikes and cross trainers.
Watch the launch trailer below to see some of the options available with it.