VicoVR Brings Wireless Full-Body 3D Tracking to Mobile VR
BY: FG Team
23 January 2017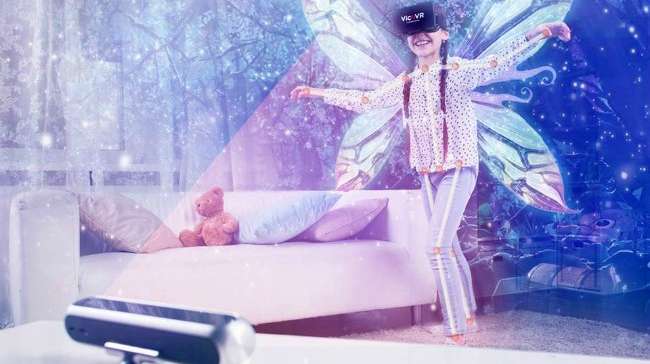 images: 3DIVI
VicoVR, a Bluetooth accessory for iOS and Android headsets, is the world's first wireless full-body motion tracking system for mobile virtual reality.
VicoVR, one of the innovative technologies that is featured at the 2017 CES in Las Vegas in January, is a full-body motion controller that offers motion and positional tracking for mobile VR without PC, wearable sensors or wires. The Bluetooth accessory is compatible with any iOS or Android headset, including Samsung Gear VR, Google Daydream View, and other HMDs.
VicoVR is a unique sensor that wirelessly tracks precise 3D coordinates of 19 body joints, which makes it an ideal accessory for virtual reality applications that require full-body tracking, HMD positional tracking and gesture control capabilities. The system allows users to move freely within the virtual worlds of mobile games and can be used both as an accessory for users' existing headsets or as a standalone 3D gaming system. As an independent system, VicoVR is an accurate, responsive gaming platform that supports one to two players. It can also be synced with Apple TV, Android TV, game consoles and other gaming platforms to introduce an extra dimension to the gaming experience. It allows users to play in VR against their friends who are playing the same game on TV.
VicoVR is the first consumer product to offer a truly wireless full motion experience. The only other wireless solutions that offer the same are enterprise-level systems, while affordable consumer VR products with the same functionality are all wired systems.
Several Android VR games are already available for the system and the gaming library will expand over the next several months. All that users need to do to start playing fully immersive mobile games is connect the VicoVR sensor to their smartphone (Android 4.0 or higher) and install the VicoVR Middleware.
VicoVR was developed by 3DiVi Inc., a 3D intelligence company dedicated to creating innovative 3D body tracking solutions for use with next-generation gaming platforms, in virtual reality and digital signage. With headquarters in San Francisco and a R&D office in Russia, the company leads research and development in 3D computer vision and gesture recognition technology for emerging computer platforms.
VicoVR was successfully crowdfunded on Indiegogo earlier this year. The start of mass production was announced at CES 2017 and the consumer version will be available in the first quarter of 2017.
Dmitry Morozow, Co-founder 3DiVi: "We consider fitness to be one of the key application areas for VicoVR - We have several projects under development (non VR). Developers of fitness applications choose VicoVR over Kinect as we provide solutions that are compatible both with Android and iOS devices."  
To learn more about VicoVR, watch the video below.